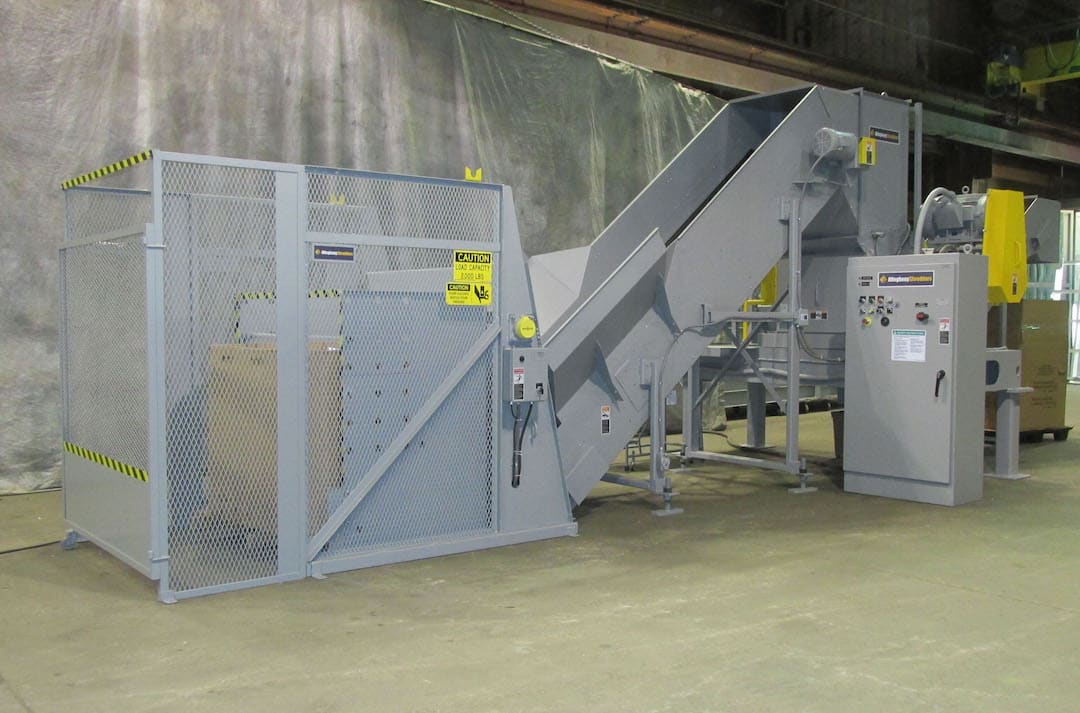 The bridge between the volume of a strip cut and the security of a cross-cut.
Offers a cost-effective method for secure, automated "dump and run" shredding.
Confidentially destroy up to 2,000 lbs. of material per hour.
Ideal for industrial shredder for companies that require heavy-duty, high-security document destruction.
"Shears" material to give the ability to bulk feed a large volume of product.
Concepts
Allegheny's Particle-Cut Shredder offers the perfect combination of security and efficiency. This aggressive industrial shredder enables you to destroy a high volume of paper, cardboard, or plastic with minimal labor.
Our Particle-Cut Shredders literally "shear" the material to be destroyed, producing shorter strips than a slitter-type industrial shredder. You gain the ability to bulk feed a large volume of product. If you want to do "dump and run" shredding, add an input feed conveyor; that will allow you to empty full boxes of documents into the hopper, which are then carried into the cutting assembly. An electronic "eye" in the cutting assembly will stop and re-start the conveyor to handle the flow of material.
This particle-cut output can then be fed into a baler for recycling profits. Allegheny manufactures Horizontal Closed Door Balers that work seamlessly with our Particle-Cut Shredders to produce compact, mill size bales.
Allegheny's Particle-Cut Shredder is also uniquely manufactured with a feed design that offers greater security than most Pierce and Tear machines. Allegheny's 20 Hp Particle-Cut Shredder is an excellent choice for smaller RIM centers wanting to provide a higher level of automated destruction.
Benefits
Can shred paper, cardboard, or plastic down to random lengths, 1/2″ wide strips.
20″ feed opening allows for the product to flow at a rapid pace.
Can be used as a stand-alone unit or in tandem with a strip-cut industrial shredder to achieve cost-effective, high-volume, ultra-secure Cross-Shredding.
Download the pdf catalog: High-Capacity Particle-Cut Shredder
Specifications
Model
Model 20 Particle Cut Shredder
Shred Width
Random length, 1/2″ width
Motor
20, 30, or 40 Hp.
Reducer
Shaft mount
Bearings
Spherical roller bearings – sealed
Shipping Weight
Approximately 5,000 lbs.
Capacity
Up to 4,000 lbs. per hour
(varies depending on horsepower)
Input Speed (per minute)
53′
Feed Opening
20″
Cutting Assembly Width
20″
Dimensions (Shredder only)
52″D x 64″W x 114″
Voltage
208/230/460 Volt AC, 3-phase, 60 cycle
As we constantly improve our products, specifications are subject to change without notice.
For more information on our Particle-Cut Shredders, please call your Allegheny sales representative at 800-245-2497 or complete our Information Request Form.
Request a Quote
Contact Us
"*" indicates required fields
We Sell at Factory Prices
All Allegheny equipment is American-made, manufactured at our factory in Delmont, Pennsylvania. This allows us to sell our products without import or export charges. We sell at factory prices, ensuring that you receive maximum value on your investment.Your biggest savings, however, derives from the quality of our equipment. Ask any of our customers: Allegheny equipment is built to perform, year in and year out, without troublesome breakdowns and costly repairs.
We pride ourselves on providing cost-effective solutions to our customers' shredding needs – from collecting to processing to recycling shredded materials for a profit.