J-Series Office Paper Shredders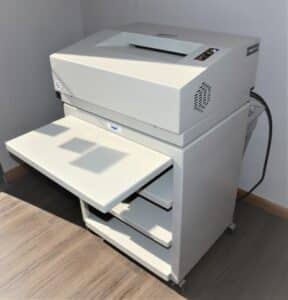 More Photos »
Powerful, compact paper shredders to ensure your company's information security.
Heavy duty industrial shredder to ensure your company's information security.
Compact industrial shredder with proven durability and shredding power.
Handles large shredding jobs easily, for a single office or large departments.
Concept
The J-Series Paper Shredder brings the ruggedness of an industrial shredder into your office environment. This extremely heavy-duty and powerful industrial shredder quietly destroys all types of paper documents, from thick stacks of computer printouts to a single check.
The all-steel construction and CAD/CAM technology ensure reliable, long-lasting performance. J-Series shredders are backed by a 3-year warranty.
This attractive yet rugged industrial shredder is the first and last paper shredder you'll ever have to buy for your office!
Benefits
Simple control panel for easy operation.
Advanced cutting assembly requires no oiling and is virtually maintenance-free.
3-year warranty of all parts and labor.
Download the pdf catalog: J-Series Office Paper Shredder
Optional Equipment
Deluxe Stand
Designed especially for our J-Series Office Paper Shredders, this heavy-duty, all-steel stand is equipped with a slide-out bag holder, convenient pullout shelf, silent roller casters, and three built-in shelves that can be used for storage or for self-feeding of up to three stacks of continuous computer printouts simultaneously.
Plastic Bags
Allegheny offers plastic bags for the convenient disposal of shredded paper. These 55-gallon bags are made of tough, clear, 2 mil virgin polyethylene. Each bag measures 40" wide x 48" high. Full bags can withstand a 20-foot drop without breaking. Bags come on dispensing rolls.
For more information on our J-Series Shredders, please call your Allegheny sales representative at 800-245-2497 or complete our Information Request Form.
What Our Customers Say
"After buying two shredders that didn't hold up, I wanted equipment I could count on. Since purchasing my Allegheny J-Series paper shredder three years ago, we've had excellent performance and never once required service."
– RAYMOND FERGUSON, Toyoda Textile Machinery, Inc.
Specifications
Model
J-25
J-45
J-45 with 1 Hp. Upgrade*
Motor / Drive Train
1/2 HP
3/4 HP
1 HP
Capacity**
20-25 tons
40-45 tons
50-55 tons
Input Speed
(feet/meters
per min.)
60/18
41/12.5
41/12.5
Feed Opening
(width)
16″ / 406 mm
16″ / 406 mm
16″ / 406 mm
Cutting
Assembly
(width)
16″ / 406 mm
16″ / 406 mm
16″ / 406 mm
Cutters

3″ diameter, solid cutter shafts machined from high-strength steel

Shred Width

5/16″ / 7.9 mm (Other shred widths are available.)

Decibel Rating
(diameter)
62 dBA
62 dBA
62 dBA
Voltage

115-Volt AC, 1-phase, 60 cycles (Other voltages are available.)

Dimensions
(width x length x height)

 25″ x 21 1/2" x 10″ /
635 mm x 546 mm x 254 mm 

Dimensions
w/Deluxe Stand
(width x length x height)
25″ x 30 1/2″ x 40″ /
635 mm x 775 mm x 1016 mm
25″ x 30 1/2″ x 40″ /
635 mm x 775 mm x 1016 mm
25″ x 30 1/2″ x 40″ /
635 mm x 775 mm x 1016 mm
Weight
255 lbs / 116 kg
265 lbs / 120 kg
265 lbs / 120 kg
Deluxe Stand Weight
100 lbs / 45 kg
100 lbs / 45 kg
100 lbs / 45 kg
* Optional 1 Hp. upgrade available. This requires a dedicated 30 amp, 115V power supply. An electrical receptacle is supplied with the machine.

**Total sheets of 20-lb. bond paper that can be shredded per pass. Actual capacity depends on the available power supply.
Request a Quote
Contact Us
"*" indicates required fields
We Sell at Factory Prices
All Allegheny equipment is American-made, manufactured at our factory in Delmont, Pennsylvania. This allows us to sell our products without import or export charges. We sell at factory prices, ensuring that you receive maximum value on your investment.Your biggest savings, however, derives from the quality of our equipment. Ask any of our customers: Allegheny equipment is built to perform, year in and year out, without troublesome breakdowns and costly repairs.
We pride ourselves on providing cost-effective solutions to our customers' shredding needs – from collecting to processing to recycling shredded materials for a profit.