Allegheny's Single-Shaft Grinder has the versatility to shred a variety of different materials (including paper, cardboard, plastic, wood, medical waste, e-scrap, etc.). This shredding machine is perfect for recycling centers, printing companies, medical waste facilities, or any company that needs complete secure destruction.
---
The extremely rugged Allegheny Product Shredder destroys televisions, office equipment, digital media, Kevlar, bound books, and more. It's the perfect shredding machine for bulk-reducing large products and materials to manageable sizes.
---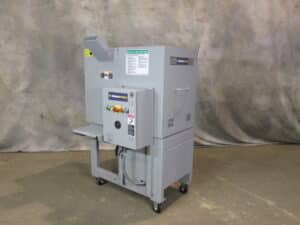 Allegheny's Hard Drive Shredders are the perfect shredding machine for on and off site hard drive shredding services. This compact shredder is built to destroy all types of e-scrap materials (including hard drives, SSDs, circuit boards, cell phones, laptops, CDs, USB drives, computer chips, etc.). Available in SelecShred™ option for two different shred widths.
---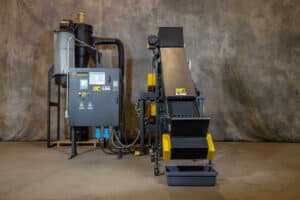 Allegheny's DataSlayer is the ultimate solution for 2 mm destruction of solid state media (SSDs, circuit boards, CPU chips, cell phones, tablets, USB drives, etc.). The DataSlayer shredding machine is equipped with air filtration systems and available for mobile trucks and trailers.
---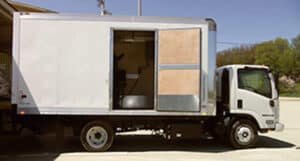 Providing on-site hard drive shredding can be a very profitable revenue stream. Bring an empty box truck to Allegheny and get outfitted with a hard drive shredder, diesel generator, and installation package to have a complete on-site hard drive shredding truck.
---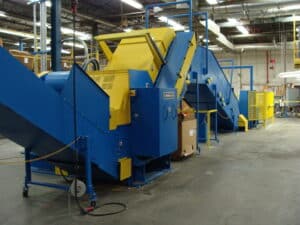 Allegheny's Core Shredders destroy paper and cardboard cores and tubes, along with scrap rings and cardboard boxes. This shredding machine shreds cores and tubes into strips for easy bailing. Save space in your facility while getting a bailed recyclable product for profits.
Material Shredding Machine for All Applications
Reasons to Love Our Industrial Shredders
Utilizing a shredding machine is a vitally important part of how we do business. Legal documents need to be shredded, hardware and hard drives need to be obliterated, and for many industrial needs, a shredding machine is crucial. There are many companies who offer shredding services to businesses around the country. These organizations need the best shredders possible in order to fulfill their duties in the business community.
That's why the best shredding companies in the world use Allegheny Shredders to fulfill their work. The variety of shredder machine options available at Allegheny Shredders help them to be the first choice for some of the top shredding machine companies in the world. In fact, the top 10 facilities in the world trust Allegheny Shredders for their machinery! Why work with anyone else except these guys for shredding machine work? So to figure out what machinery you will need for your facility, give a call today to (724) 468-4300 and find out much savings you can receive with Allegheny Shredders!
Here are some of the top reasons why Allegheny Shredders have continued to deliver time and time again with their shredding machines capabilities.
Built to Last
All machine shops will say their machinery will last a long time. With our products though, we've seen proof with our customers that their machinery does last a very long time. In fact, 94% of all our Allegheny equipment and shredder machine tools that were bought 12 years ago are still being utilized by facility owners! Those are some amazing results and it's all thanks to our products going above and beyond expectations with their longevity.
For one thing, our products are 100% produced in America. The nation of China was not required for the manufacturing of our products! Our craftsman used CAD tools and programs to assist us in putting together great shredding machine results. The machinery also utilizes the highest throughput in the paper shredding world. A shredder machine from our inventory can withstand 500 lbs/hour to 25 tons/hour! The shredder machine itself is actually designed to function quite affordably compared to other shredding products. By their high quality and longevity standards, it makes it affordable for us to service and maintain the products. Since they're a well-oiled machine of American shredding liberty, they also create low costs in their downtime. And after all of these great factors, we provide some of the best warranties available, with a 10-year trade-in policy on our equipment. It's unheard of in our industry and simply proves the point that Allegheny Shredders are some of the best shredders to choose from.
Factory Prices
By the sheer fact that our products are manufactured exclusively in the United States, this means that there are zero import and export costs associated with the sale of our products. That means whenever you purchase a shredding machine from Allegheny Shredders, you are received factory prices. This should let you confidently know that you're receiving the maximum value on your equipment as possible. It's not only valuable based on its factory prices, but since these machines were manufactured in the United States, they are a higher quality than most imported tools. That way, you will see the savings years down the road and as it was explained earlier, 94% of our tools and shredder machine equipment are still being used 12 years after their initial purchase!
Strongest Warranty
When you compare us to our competitors, nobody even comes close to our warranties. You'll find that most shredder machine companies will provide a measly 90-day warranty. That's sad compared to our service, where we provide a 3-year warranty exclusively with our Allegheny J-Series paper shredders. On all of our other shredding machine options, we gift you with a full, one-year warranty on our work!
This is only part of the great deals we provide our clients. As an added bonus just for working with us, we provide people with a service technician free of charge on any equipment that needs to be serviced! That's quite the luxury treatment, particularly compared to most the shredder machine companies who would provide this service experience. It's all part of our plan to continue to dominate and conquer the paper and hardware shredding industries. So if you need some of the highest quality shredder machine options on the market, then it's time to give us a call today at (724) 468-4300. We'll be happy to describe to you our product options and come up with a line of shredding machine equipment for you to utilize for your facility.
50 Years of Customers Satisfaction
As another sweet layer of icing on the cake, our company has also been around the block for decades. For over fifty years, Allegheny Shredders has been a trusted resource for the paper and hardware shredding community. That's why many of our clients are in the Fortune 1000 organization of businesses and why the top ten facilities in the country use Allegheny Shredders. When you have credentials like this and a client base that's constantly utilizing your services, it's no wonder why we've stuck around for over 50 years. By simply persevering and continuing to providing our clients with a WOW experience in every stage of the relationship, the amount of clientele grows and grows continually. To be added to our collection of hundreds of clients, give us a call today at (724) 468-4300 and we'll gladly get you started on your first piece of shredding machine equipment today.
We Carry All Five Shredding Technologies
What makes us a unique choice for your shredding machine needs, is that we are the only shredding company to provide the five different technology types under one roof. Our competitors will provide at least a couple different types or specialize in simply one style of shredding for a certain industry. With our products, we decided to be a one-stop shop resource for shredder machine needs. This means we provide our clients with strip-cut, cross-cut, cross-shred, particle cut and single shaft rotary grinders. By servicing all five of these options to our clients, they can be fully tooled with the capabilities and unique needs for any scenario. For the ability to work with a manufacturer that's able to handle any issue large and small, give us a call today at (800) 245-2497 or complete the form on this page!
Repair and Service for the Life of the Machine
We've already discussed that we offer so much to our clients. One of the areas of service we've mentioned is the fact that we offer repair and service to our clients for the life of the machinery. That means if something is being malfunctioned with the equipment and you need a specialist to provide you with technical support to fix the equipment, we provide you with the service technician needed to get it done, on us. It's that kind of service and delivery of the shredder machine that makes working with us so easy.
When you purchase a piece of equipment and it begins to malfunction, don't you get quite frustrated with the equipment? It creates a blockade in the productivity of your day because now your focus is on fixing the shredding machine. With other machinery companies, it's not automatic that they will get right back with you and provide you the amount of service we provide. In order to experience the kind of red carpet treatment you've always deserved, give us a quick call today at (800) 245-2497 and we'll be able to get you a great consultation on the type of machinery you'll need to solve your problems.
Paper Shredding Equipment
For a reliable paper shredding machine, you can go with numerous options. In the J-Series of products, including the Model J-25, Model J-45, and Model J-45 with 1 Hp. upgrade, these bad boys will give you the cost-effective and reliable delivery that you've come to expect with any Allegheny Shredders products. These products are the best choice for office use of one to several office locations at a time.
You can also shop from our line of high capacity shredders. While each shredding machine serves a different purpose, they all fulfill the important purpose of providing our clients with high volume, high capacity usage. For instance, our 16-series shredder machine is used for a single operator and provides a quiet and versatile choice for our clients. Our cross-cut shredding machine offers our paper shredding providers the ability for the throughput of a standard, high grade industrial shredder they love, but also the more secure shred size they enjoy as well. On top of these choices are the 100-series and 1000-series industrial shredders that provide different capabilities for throughput and bandwidth. Whatever the case may be for paper shredding purposes, enjoy the many perks of using Allegheny Shredders by calling (724) 468-4300.
Hard Drive Shredding Equipment
Companies need shredding machine work not only for their paper, but also for hardware. Since we're the only shredding machine company that provides service for all five styles of shredding, we also have the capacity to provide and service machinery for hardware. You already know that Allegheny Shredders provide the cost-effective, powerful capabilities with all their products right? Then you will know that Allegheny Shredders will be able to provide the secure destruction for many hardware products like SSD's, circuit boards of all sizes, cell phones, laptops, computers and last but not least, any hardware type. For details on resources available to you, give Allegheny Shredders a call today at (724) 468-4300.
Material Handling Equipment
Not only do we provide the technical machinery for hard drive shredding and paper shredding, but we can also provide you with the training necessary for your team to utilize the machinery to the best of your ability. We know that if your staff members fully understand the inner workings of the machinery, they will be able to maintain the longevity of the machine for many years to come. That saves you time and money calling us and having our service technicians constantly need to fix the equipment! On top of that, if your personnel simply have questions regarding maintenance or technical questions, our staff is always available to get you the answers you need. It's a quick call away so go ahead and ask your questions at (724) 468-4300.
Testimonials & Case Studies
Since we've had so many happy clients over the 50+ years of work, you will likely be interested in hearing what some of our clients had to say about their experiences with us. According to research written in an issue of Adweek, 8 out of 10 customers are going to read reviews before making a purchase on a product or service. So let's dive into some reviews from some of our real clients!
Tim and Paula Oberst from Ohio Mobile Shredding discussed that it's basically a no-brainer to work with Allegheny Shredders. They talked about how the machines we provided require very low maintenance and they view our company as a "wealth of knowledge" to tap into. To be able to identify one of your vendors as a trustworthy wealth of knowledge? Now that's a great complement!
John and Nick are with Shred First LLC and they've seen tremendous benefits after choosing to stay loyal to Allegheny Shredders products. They specifically mention one of our great representatives and the unique amount of attention and customer service the organization provides. Even with some suspicions about the product, they realized that they made a great choice. They expressed that our shredding machines were "built like a tank!"
Last, but not least, Bob Jamison, the Director of Facilities at the U.S. Health Care offices, preached about the American quality standards of Allegheny Shredders. He loves that our company has consistently built products the way products used to be built 30 years ago, with genuine, long-lasting quality.
If you need any information at all about working with Allegheny Shredders and our variety of products we provide, we invite you to call us at 800-245-2497 or complete our Information Request Form. Our team would be thrilled to talk with you about all that we provide.
Need more testimonials? Read more from our testimonials here. Also read our many Google reviews here.
Request a Quote
Contact Us
"*" indicates required fields
We Sell at Factory Prices
All Allegheny equipment is American-made, manufactured at our factory in Delmont, Pennsylvania. This allows us to sell our products without import or export charges. We sell at factory prices, ensuring that you receive maximum value on your investment.Your biggest savings, however, derives from the quality of our equipment. Ask any of our customers: Allegheny equipment is built to perform, year in and year out, without troublesome breakdowns and costly repairs.
We pride ourselves on providing cost-effective solutions to our customers' shredding needs – from collecting to processing to recycling shredded materials for a profit.