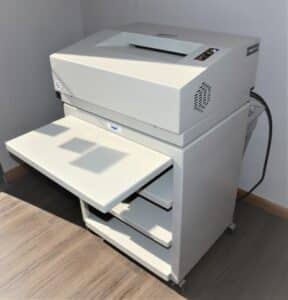 The three models in the J-Series – Model J-25, Model J-45, and Model J-45 with 1 Hp. upgrade – are the options for a compact industrial shredder that creates a reliable and cost-effective solution for your security needs. They accommodate general office use in one or several locations throughout your company, as well as higher capacity use for large departments within a corporation.
---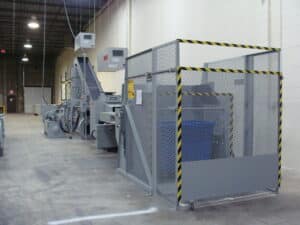 Allegheny has three different series of their high-capacity, conveyor-fed industrial shredder, all manufactured to meet your specific paper shredding needs:
---
Allegheny's 16-Series Shredders are designed for used by a single operator and offer quiet, versatile, and powerful destruction of your paper and cardboard.
---
The Allegheny 100-series industrial shredder is designed for one or two operators and can process from 1 to 2 ½ tons per hour. These industrial shredders are ideal for starting an off-site paper shredding service or for large institutions with centralized shredding for several locations.
---
The extremely rugged 1000-Series are the ultimate industrial shredder, built to withstand the most demanding applications – with capacities ranging from 3 tons to 25 tons per hour. Maximum productivity comes using an Allegheny Auto-Feed™ System.
---
The Allegheny Cross-cut Shredder is made specifically for paper shredding companies who want the throughput volume of an industrial shredder, but also have the need for a smaller, more secure shred size.
---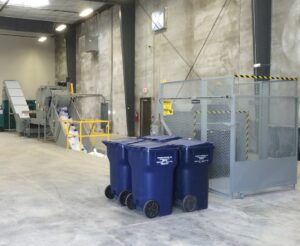 To maximize your productivity and reduce your labors costs in high-volume applications, Allegheny can custom design a Complete Shredding System incorporating optional equipment including conveyors, tippers, balers and auto-feed systems. A complete system will also enable you to generate recycling profits from your shredded paper.
---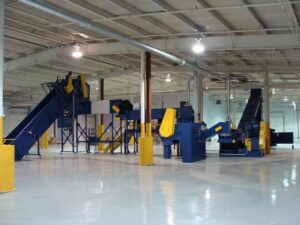 This innovative technology developed by Allegheny provides the most secure destruction for high-volume applications. Utilizing a two-stage shredding process, Cross-Shredding results in a much smaller shred size than conventional strip-cut shredding, offering the maximum level of security. Cross-Shredding technology is not only cost-effective, but it significantly increases your system's overall throughput.
For more information on our Paper Shredders, please call your Allegheny sales representative at (800) 245-2497 or complete our Information Request Form.
Request a Quote
Contact Us
"*" indicates required fields
We Sell at Factory Prices
All Allegheny equipment is American-made, manufactured at our factory in Delmont, Pennsylvania. This allows us to sell our products without import or export charges. We sell at factory prices, ensuring that you receive maximum value on your investment.Your biggest savings, however, derives from the quality of our equipment. Ask any of our customers: Allegheny equipment is built to perform, year in and year out, without troublesome breakdowns and costly repairs.
We pride ourselves on providing cost-effective solutions to our customers' shredding needs – from collecting to processing to recycling shredded materials for a profit.