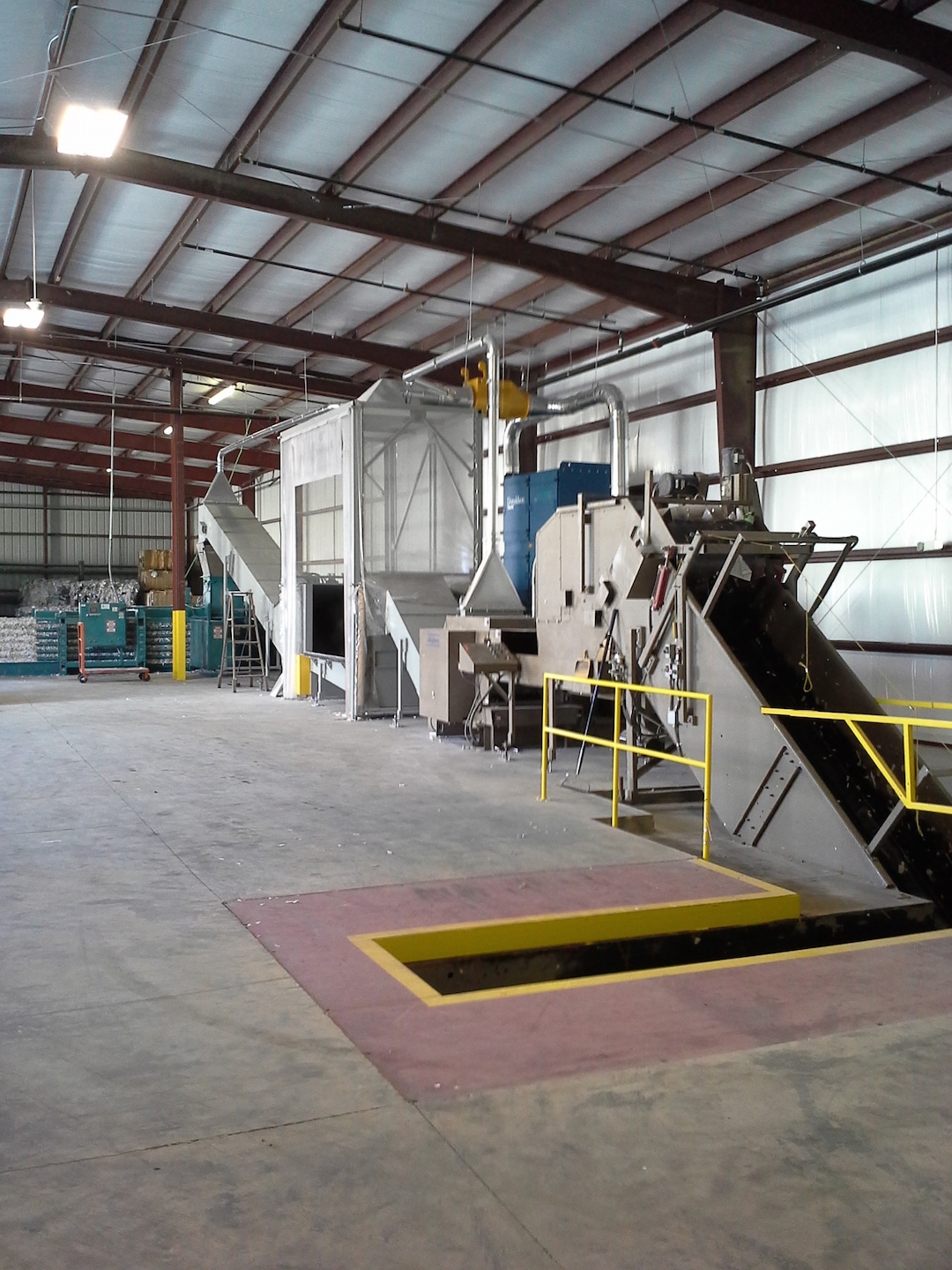 Dramatically increase your shredding capacity while significantly saving on labor costs.
Revolutionary system developed by Allegheny allows automatic feeding of paper into your industrial shredder.
Efficient design couples two conveyors that consistently feed high volumes of paper, enabling your industrial shredder to perform at maximum capacity.
Increases profitability through reduced labor costs (one operator can do the work of two or three) and streamlined workflow.
Concept
Allegheny developed the Auto-Feed™ System to increase the amount of paper that can be fed into a high capacity industrial shredder. Operators can only handle so much paper per hour, but by automating the feeding of the industrial shredder, your company can minimize labor while making the process more efficient and cost-effective.
The Auto-Feed System utilizes a high capacity Primary Conveyor (in-floor or above-ground) coupled with a variable speed Metering Conveyor with a cleated belt to produce a smooth, even flow of paper into the industrial shredder cutting assembly. This unique design virtually eliminates jams and minimizes operator fatigue and strain.
The Allegheny Advanced Auto-Feed™ System is designed for hands-free shredding. This system includes a Metering Drum that automatically regulates the amount of paper discharged from the Metering Conveyor. This allows unattended operation, greatly minimizing labor costs.
The Auto-Feed System is designed for use with all Allegheny 1000-Series Shredders, and is ideal for contract shredding services or organizations having a large volume of confidential documents to destroy.
Benefits
Allegheny's innovative Auto-Feed™ System greatly increases shredding capacity, moving greater volumes of paper than operators could achieve manually.
Boosts your profits through significantly reducing labor costs.
Virtually eliminates jams and minimizes operator strain.
State-of-the-art technology that enables you to maximize your shredder's capacity and raise your company's bottom line.
For more information on our Conveyors, please call your Allegheny sales representative at 800-245-2497 or complete our Information Request Form.
Request a Quote
Contact Us
"*" indicates required fields
We Sell at Factory Prices
All Allegheny equipment is American-made, manufactured at our factory in Delmont, Pennsylvania. This allows us to sell our products without import or export charges. We sell at factory prices, ensuring that you receive maximum value on your investment.Your biggest savings, however, derives from the quality of our equipment. Ask any of our customers: Allegheny equipment is built to perform, year in and year out, without troublesome breakdowns and costly repairs.
We pride ourselves on providing cost-effective solutions to our customers' shredding needs – from collecting to processing to recycling shredded materials for a profit.