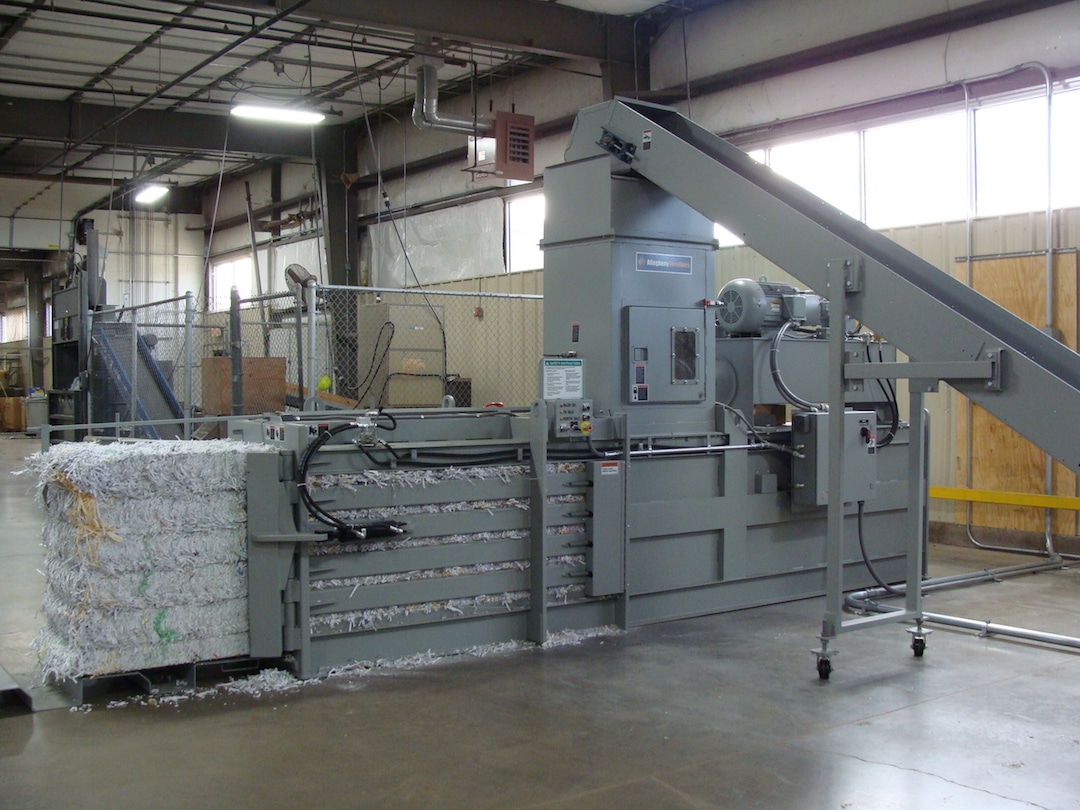 High-performance paper balers to maximize your recycling profits.
Complete line of heavy-duty horizontal, closed-end, manual-tie balers and open-end, auto-tie balers available to accompany our 16-Series, 100-Series, and 1000-Series Industrial Shredder.
Concept
Allegheny's Horizontal Paper Balers compress shredded paper from your industrial shredder into dense, quality bales that are easy to store, transport, and recycle.
Allegheny craftsmen designed and engineered this original equipment focusing on precision, maximum performance, and the safest possible operation for your personnel. In addition to reclaiming recycling profits, your company will save dollars from eliminating the man-hours spent handling shredded materials. You'll also have more storage space at your disposal.
Three models of horizontal closed-end balers are available, with bale weights ranging from 175 lbs up to 1500 lbs. Our balers are manufactured using state-of-the-art CAD/CAM equipment and only the highest quality American-made steel. Our 3430-2572 CE baler, accompanied with an Allegheny industrial shredder, can create mill sized bales that can be sold for profit!
Allegheny also offers open-end, auto-tie balers manufactured by Maren Engineering Corporation. The 72 O.E. Series Baler allows completely unattended operation and uses hydraulic-free automatic tying. A wide range of bale cross sections and in-feed hopper sizes are available. Most Maren auto-ties are ran with a Allegheny Auto-Feed™ System and Allegheny 1000-Series Industrial Shredder.
Benefits
Allegheny balers make it easy for you to generate profits from recycling by producing tight, high quality marketable bales – in fact, the baler often pays for itself in 1-2 years!
Reduce your labor costs spent on handling shredded materials; recoup valuable storage space
Our Horizontal Closed-end Balers are designed and engineered for long-lasting, smooth, high volume, safe performance
Open-end, automatic-tie balers offer even greater efficiency
Download the pdf catalog: Horizontal Balers
Specifications
Model
2024-532 CE
3030-2072 CE
3430-2572 CE
Motor
7.5 Hp
20 Hp
25 Hp
Voltage
208/230/460V
208/230/460V
208/230/460V
Bale Size (L x W x H)
24″ x 24″ x 20″
60″ x 30″ x 40″
72″ x 30″ x 40″
Bale Weight (lbs)
175-200
800-1200
1100-1500
Ram Cycle (no load/seconds)
20
30
25
Ram Thrust (lbs)
18,855
57,848
78,750
Hydraulic Cylinder (diameter x stroke)
4″ x 30″
6″ x 44″
7″ x 48″
Pump (GPM)
7
41
48
Max Operating Pressure(PSI)
2,300
2,300
2,300
Oil Reservoir (Gallons)
15
100
100
Shipping Weight (lbs)
3,500
9,000
10,000
Number of Ties
3
5
5
Dimensions:
A
20″
30″
34″
B
24″
30″
30″
C
45″
48″
48″
D
36″
38″
38″
E
118″
195″
205″
F
62″
100″
100″
G
28″
55″
55″
H
50″
85″
94″
J
65″
87″
87″
K
23″
50″
50″
For more information on our Horizontal Paper Balers, please call your Allegheny sales representative at 800-245-2497 or complete our Information Request Form.
What Our Customers Say
"Our Allegheny Horizontal Closed-end Baler is extremely reliable. It produces high-quality, clean bales of consistent weight and size that our recyclers love! The baler's high-volume output has greatly added to our business success."
– DAVID KRELLER, Document Resources
Request a Quote
Contact Us
"*" indicates required fields
We Sell at Factory Prices
All Allegheny equipment is American-made, manufactured at our factory in Delmont, Pennsylvania. This allows us to sell our products without import or export charges. We sell at factory prices, ensuring that you receive maximum value on your investment.Your biggest savings, however, derives from the quality of our equipment. Ask any of our customers: Allegheny equipment is built to perform, year in and year out, without troublesome breakdowns and costly repairs.
We pride ourselves on providing cost-effective solutions to our customers' shredding needs – from collecting to processing to recycling shredded materials for a profit.