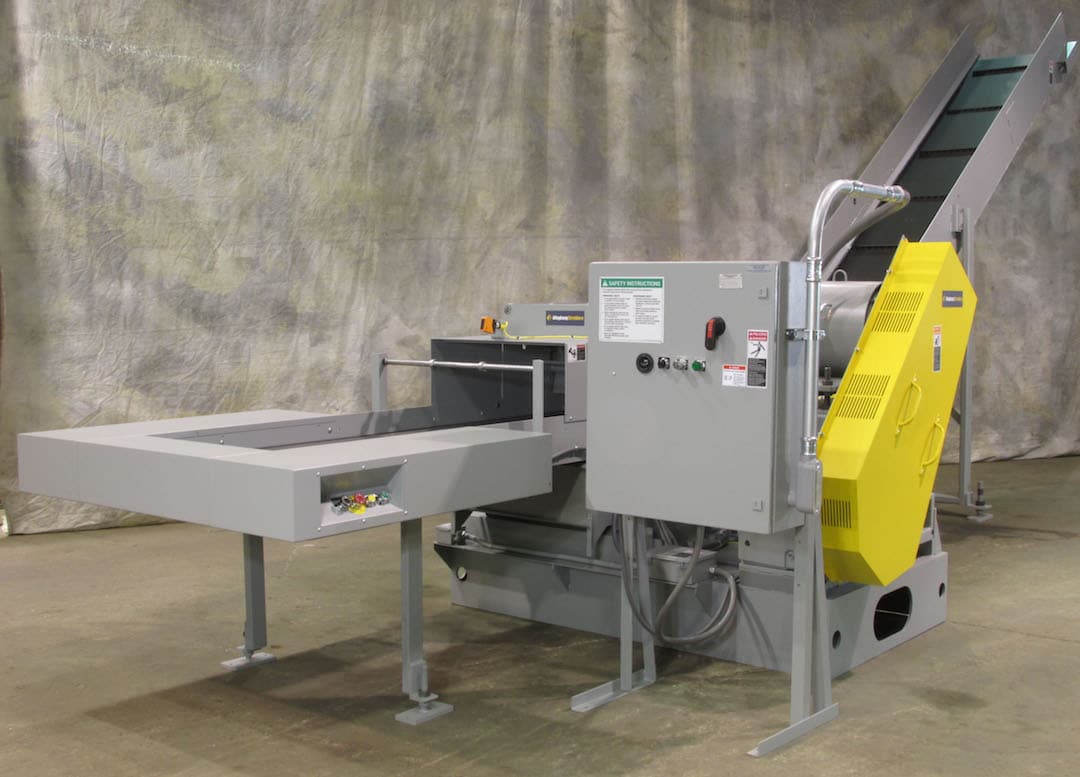 Heavy-duty shredding power for the most demanding applications
For secure, high-volume destruction, Allegheny's 1000-Series are more successful than any industrial shredder in the industry – from 3 tons up to 15 tons per hour!
For the most advanced shredding capability (up to 25 tons per hour) and highest level of security, the 1000-Series industrial shredder can be incorporated into an Allegheny Cross-Shredding System.
Ideal for contract paper shredding services, records storage centers, governmental archives, or retention centers requiring high-volume centralized paper shredding for several locations.
Concept
With its proven track record for heavy-duty destruction in the most demanding applications, it's easy to see why the majority of contract paper shredding services rely on the Allegheny 1000-Series Industrial Shredder.
When you're investing in a paper shredding system that will be the cornerstone of your document destruction operation, you want assurance that it is built to withstand heavy-duty, continuous use. That's why Allegheny's 1000-Series Shredders are designed, engineered, and manufactured to be the most powerful, reliable, and long-lasting in the industry. Their shredding power is virtually indestructible, and you simply won't find a more reliable system out there to match its capacity for secure destruction of a wide variety and volume of materials.
The 1000-Series Industrial Shredder is available in four different models: 30-500C, 36-1000C, 36-1000C HD, and 48-2000C with various horsepower options. This series can generate a significant profit for your company from recycling the large volumes of shredded materials.
Benefits
Excellent reliability proven by decades of heavy duty use in the most demanding applications.
Often used with an Allegheny Auto-Feed™ System to save on labor costs (one operator can do the work of two or three).
Optional impact-resistant T-18 tool steel cutters are built to handle the most abusive applications.
Powerful drive train utilizing a base-mounted gear reducer is designed to withstand the stress of high-volume shredding.
Opportunity for significant profits from recycling large volume of materials.
Download the pdf catalog: 1000-Series Industrial Shredder
Optional Equipment
Allegheny offers optional equipment to provide easier disposal of your shredded materials and enable you to turn your waste paper into recycling dollars. We can even custom design a complete shredding system to maximize your shredder's productivity and reduce your labor costs.
We'll help you determine the most efficient way to collect materials for shredding, process materials through the shredder, and recycle shredded paper for a profit.
Allegheny will also help you design the physical layout of your system to make the most efficient use of available space and personnel. Using computer-aided design technology we can provide you with a detailed diagram showing the optimal layout of your shredding system within your facility.
Our technicians are available to install our complete shredding system and train your personnel to ensure safe, efficient operation and proper maintenance of your equipment.
Tippers
Used with a loading cart, security container, or a Gaylord box, the Allegheny 880 or HLS Tipper offers an efficient way to load materials onto your shredder's input conveyor. This increases the volume of throughput to be shredded and minimizes operator fatigue and strain.
Conveyors
Sorting Conveyors allow the operators to separate materials by grade and type prior to shredding for maximum recycling profits. Primary Conveyors (in-floor or above-ground), Metering Conveyors (see Auto-Feed™ Systems below), and Output Conveyors allow easy transport of shredded materials into a baler, compactor, dumpster, or other receptacles.
Auto-Feed™ Systems
This revolutionary system developed by Allegheny greatly increases your shredding capacity while dramatically reducing labor costs. These systems utilize a high capacity Primary Conveyor (in-floor or above-ground) coupled with a variable speed Metering Conveyor, assuring an even flow of paper into the shredder's cutting assembly. This unique design virtually eliminates jams and minimizes operator fatigue and strain.
Horizontal Balers
Allegheny manufactures a complete line of horizontal closed-end balers and auto-tie open-end balers to increase the efficiency of your shredding operations. Allegheny balers produce dense, superior quality bales that increase your recycling profits. Bale weights range from 800 lbs. up to 2000 lbs.
Consoles & Security Containers
Allegheny provides a full selection of security containers and executive consoles to provide secure storage of documents prior to shredding.
Specifications
Model
30-500C
36-1000C
36-1000C HD
48-2000C
Motor / Drive Train
50, 60, 75, or 100 HP
75, 100, or 125 HP
150 or 200 HP
250 or 300 HP
Capacity*
3-5 tons
5-7 tons
8-11 tons
12-15 tons
Input Speed
(feet/meters per min.)
83/25, 94/28, 97/29, 124/38
78/24, 99/30, 123/37
99/30, 124/38
100/31, 120/36
Feed Opening
(width)
30″ / 762 mm
36″ / 914 mm
36″ / 914 mm
48″ / 1,219 mm
Cutting Assembly
(width)
30″ / 762 mm
36″ / 914 mm
36″ / 914 mm
48″ / 1,219 mm
Cutting Assembly
(clearance)
1 7/8″ / 48 mm
2 1/8″ / 54 mm
2 3/4″ / 70 mm
3 1/8″ / 79 mm
Cutters

Sawtooth; precision-ground from A-2 tool steel or Allegheny's highest impact-resistant T-18 tool steel (optional on all models), heat-treated to optimum Rockwell hardness

Shred Width**
5/8″ / 16 mm
5/8″ / 16 mm
5/8″ / 16 mm
5/8″ / 16 mm
Crusher Paddle
(diameter)
12″ / 305 mm
12″ / 305 mm
16″ / 406 mm
18″ / 457 mm
Voltage**

460 Volt AC, 3-phase, 60 cycle

Dimensions
(width x length)
105″ x 144″
267 cm x 366 cm
126″ x 166″
320 cm x 422 cm
130″ x 170″
330 cm x 432 cm
150″ x 188″
381 cm x 478 cm
Weight
(machine)
10,700 lbs / 4853 kg
16,100 lbs / 7,303 kg
24,000 lbs / 10,866 kg
40,300 lbs / 18,280 kg
*Listed tonnage range is based on realistic performance for that model utilizing an Allegheny Auto-Feed System.
**Additional shred widths and voltages are availableAs we constantly improve our products, specifications are subject to change without notice.
For more information on our 1000-Series Shredders, please call your Allegheny sales representative at 800-245-2497 or complete our Information Request Form.
Request a Quote
Contact Us
"*" indicates required fields
We Sell at Factory Prices
All Allegheny equipment is American-made, manufactured at our factory in Delmont, Pennsylvania. This allows us to sell our products without import or export charges. We sell at factory prices, ensuring that you receive maximum value on your investment.Your biggest savings, however, derives from the quality of our equipment. Ask any of our customers: Allegheny equipment is built to perform, year in and year out, without troublesome breakdowns and costly repairs.
We pride ourselves on providing cost-effective solutions to our customers' shredding needs – from collecting to processing to recycling shredded materials for a profit.