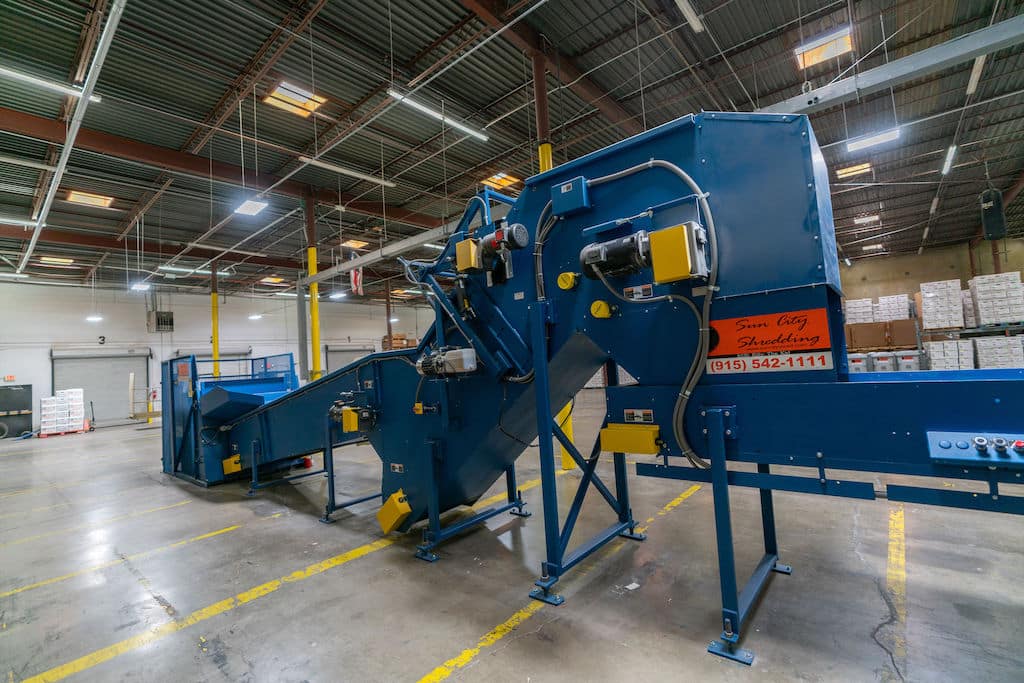 More Photos »
Innovative solution providing the most secure destruction for high-volume applications.
State-of-the-art technology from Allegheny that generates maximum throughput with the highest level of document security.
Utilizes a two-stage process providing the most advanced shredding capability in the industry.
Significantly increases your shredding capacity while producing a much smaller shred size than single strip-cut shredding.
Concept
To meet the growing need for a higher level of document security than strip-cut shredding, especially in high-volume shredding applications, we developed the Allegheny Cross-Shredding™ technology.
This innovative two-stage shredding process involves positioning two shredders at a 90ºangle to one another. For example, you might add a pre-shredder with a 75 Hp motor and a 2" shred width in front of an industrial shredder with a 100 Hp motor and a 5/8" shred width. The output of the first industrial shredder is fed into the second industrial shredder and comes out as highly secure, cross-shredded pieces that are much smaller than the output from strip-cut shredding.
In addition to the increased security, you can significantly improve your throughput volume up to 50%, resulting in the most secure destruction possible when processing large amounts of material. If you already have a industrial shredder, it's easy to integrate a pre-shredder into your existing system, providing a cost-effective solution for greater productivity.
Allegheny Cross-Shredding Systems are extremely efficient, quiet, and produce minimal dust. Our technicians can provide a detailed diagram to show you the most efficient layout for your cross-shredding system within your facility. Multiple shred width combinations are available. Use this advanced technology to gain a dramatic increase in both throughput and security – and position your shredding service as the leader in your area!
Benefits
Cross shredding dramatically increases security by producing output of a much smaller size than strip-cut shredding.
Significantly improves throughput volume, up to 50%.
Easy to install, by integrating a pre-shredder in front of your existing industrial shredder to create a cost-effective solution combining greater volume and greater security.
Can be combined with an Allegheny Auto-Feed™ System to save on labor costs.
The advantages of this innovative technology will help establish you as the industry leader in your region!
Optional Equipment
Allegheny offers optional equipment to provide easier disposal of your shredded materials and enable you to turn your waste paper into recycling dollars. We can even custom design a complete shredding system to maximize your industrial shredder productivity and reduce your labor costs.
We'll help you determine the most efficient way to collect materials for shredding, process materials through the industrial shredder, and recycle shredded paper for a profit.
Allegheny will also help you design the physical layout of your system to make the most efficient use of available space and personnel. Using computer-aided design technology we can provide you with a detailed diagram showing the optimal layout of your shredding system within your facility.
Our technicians are available to install our complete shredding system and train your personnel to ensure safe, efficient operation and proper maintenance of your equipment.
Tippers
Used with a loading cart or security container, the Allegheny 880 Tipper offers an efficient way to load materials onto your shredder's input conveyor. This increases the volume of throughput to be shredded and minimizes operator fatigue and strain.
Output Conveyors
For transporting shredded materials into a baler, compactor, dumpster, or other receptacles.
Horizontal Balers
For Allegheny 16-Series Shredders, we offer a complete line of heavy-duty balers to increase the efficiency of your recycling operations.
Piggyback Systems
Unique Allegheny design mounting a 16-Series Shredder directly over an Allegheny 2024-532 CE Horizontal Baler, to create a complete shredding system in a limited space.
Mobile Shredding Systems
You supply a truck and we'll install a complete mobile shredding system using the 16-Series Shredder, diesel generator, optional output conveyor and all necessary equipment and accessories.
Consoles & Security Containers
Allegheny provides a full selection of security containers and executive consoles to provide secure storage of documents prior to shredding.
For more information on our Cross-Shredding Systems, please call your Allegheny sales representative at 800-245-2497 or complete our Information Request Form.
"You can't beat an Allegheny Cross-Shredding System for capacity, security, efficiency, and long life – no other system exists that can outperform it."
– JOHN WAGNER, Founder, Allegheny Shredders
What Our Customers Say
"We've vastly improved our speed, security, and total throughput capacity – by at least 50% – by upgrading to an Allegheny Cross-Shredding System. It's practical and very cost-effective. I never want to do single strip-cut shredding again!"
– TOM SIMPSON, AAA Certified Confidential Security Corporation
Request a Quote
Contact Us
"*" indicates required fields
We Sell at Factory Prices
All Allegheny equipment is American-made, manufactured at our factory in Delmont, Pennsylvania. This allows us to sell our products without import or export charges. We sell at factory prices, ensuring that you receive maximum value on your investment.Your biggest savings, however, derives from the quality of our equipment. Ask any of our customers: Allegheny equipment is built to perform, year in and year out, without troublesome breakdowns and costly repairs.
We pride ourselves on providing cost-effective solutions to our customers' shredding needs – from collecting to processing to recycling shredded materials for a profit.