Mobile Hard Drive Shredder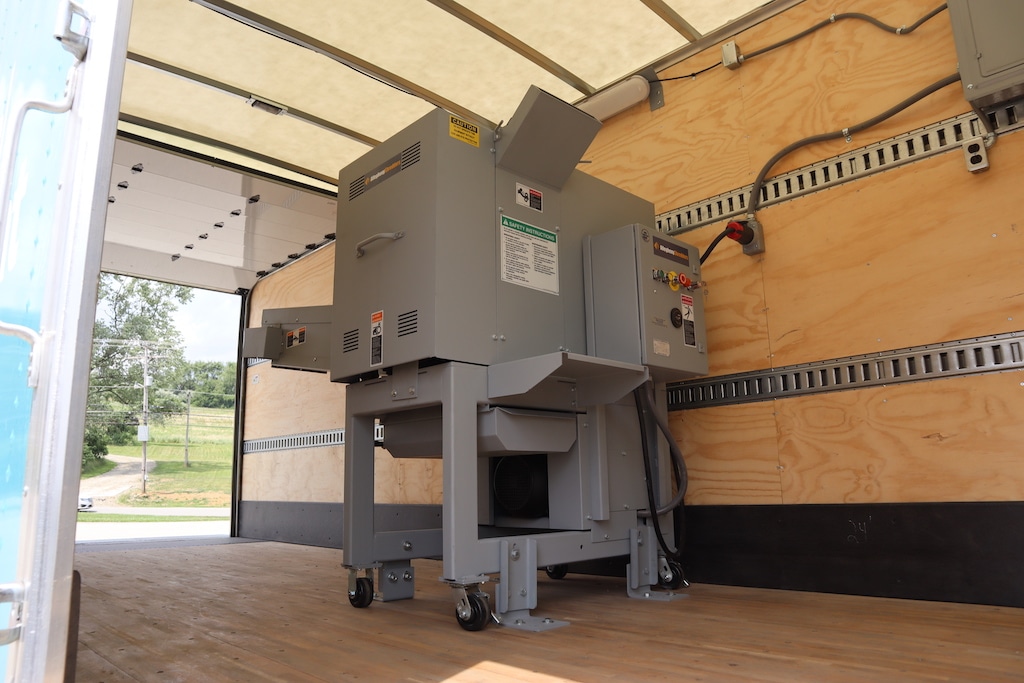 Want an on-site hard drive shredding truck?
Bring us your truck and we'll install an Allegheny Hard Drive Shredder, a diesel generator, and sound-proof enclosure.
Any Allegheny Hard Drive Shredder model can be used.
Ideal for contract shredding services that want to expand their business and offer mobile hard drive shredding.
Concept
If you want to provide on-site destruction of hard drives and e-scrap for your customers, Allegheny has your total solution. Just pull up with your truck and we'll install a complete destruction package, which includes our rugged Allegheny Hard Drive Shredder with a generator, sound-proof enclosure, lighting, ventilation – everything you need to get started right away. Allegheny's mobile hard drive shredders include:
Generator Sound Enclosure Package
To minimize generator noise, Allegheny encases the entire generator in a sound deadening enclosure. This enclosure is lined with 2″ thick Sonex soundproofing material for maximum deadening of generator noise.
To accommodate servicing the generator, large hinged interior access doors with key-locked handles are provided. In addition, the front exterior of the generator compartment is protected with chrome steel decking plates.
Generator Compartment Ventilation
For proper air cooling of the generator, Allegheny provides motorized intake and exhaust louvers. The louvers open and close automatically when the generator is turned on and off. Louvers are mounted in the side walls of the truck's body.
Equipment Mounting Brackets
To ensure safe and secure mounting of all equipment, Allegheny utilizes heavy steel mounting brackets and plates with grade #5 bolts. This ensures secure fastening of equipment to the truck's frame and floor.
Electrical System Package
Allegheny provides a complete electrical package. The following electrical components are included:
A 208, 230, or 460 volt, 3-phase, 100-amp electrical sub-panel with circuit breakers.
One remote on/off switch for generator operation by the entrance door.
Two 4-foot, double 40-watt fluorescent lighting fixtures with zero-degree ballasts for cold weather operation.
One 115 volt duplex receptacle with surface-mount device box.
All necessary conduit, connectors, and wiring.
Benefits
Adhere to large companies privacy policies by shredding hard drives on-site.
Create a new revenue stream by adding on on-site hard drive shredding.
Take out the hard drive shredder with ease and continue to use your truck for other services.
For more information on our Mobile Hard Drive Shredder, please call your Allegheny sales representative at 800-245-2497 or complete our Information Request Form.
Request a Quote
Contact Us
"*" indicates required fields
We Sell at Factory Prices
All Allegheny equipment is American-made, manufactured at our factory in Delmont, Pennsylvania. This allows us to sell our products without import or export charges. We sell at factory prices, ensuring that you receive maximum value on your investment.Your biggest savings, however, derives from the quality of our equipment. Ask any of our customers: Allegheny equipment is built to perform, year in and year out, without troublesome breakdowns and costly repairs.
We pride ourselves on providing cost-effective solutions to our customers' shredding needs – from collecting to processing to recycling shredded materials for a profit.