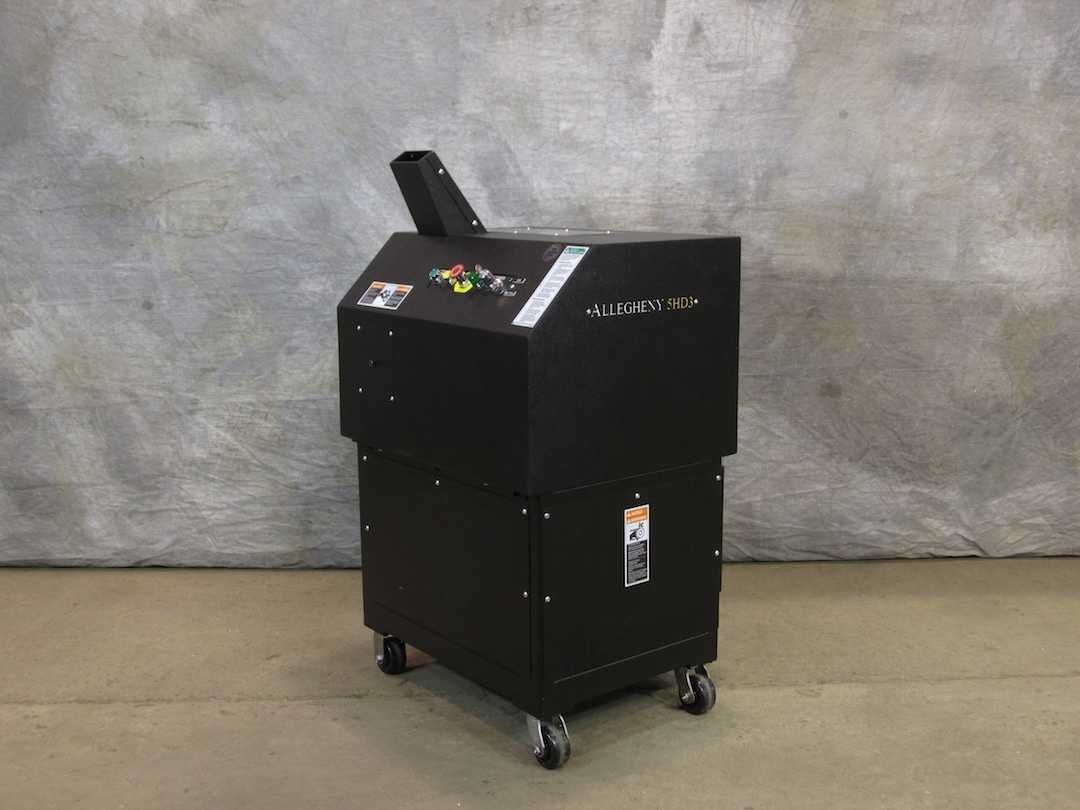 For fast, reliable destruction of hard drives, e-scrap, and other data-bearing media.
Powerful, cost-effective and secure destruction of hard drives, SSD's, circuit boards, cell phones, laptop computers, and more.
Ideal for information destruction service providers, records and information management (RIM) centers, and e-scrap recyclers.
Three separate horsepower models—3 Hp (available in single-phase), 7½ Hp, and 20 Hp—to meet your needs.
Model 12HD20 upgradable to the Allegheny Hard Drive Shredder System—a complete "dump & run" system saving time and labor costs.
Concept
To ensure total security, physical destruction of hard drives and other electronic data-bearing media is the most effective and desirable solution.
That's why every Allegheny Hard Drive Shredder destroys not only standard-size hard drives (up to 1" thick), but also server drives, as well as cell phones, PDAs, smartphones, and electronic storage devices. Our 7½ Hp and 20 Hp models can also completely destroy laptop computers (without batteries). The total destruction of these obsolete devices not only relieves any worry about security risks, but adds a reliable income stream for your business.
Allegheny Hard Drive Shredders are compact powerhouses. Equipped with a gravity-feed input chute and aggressive hooked cutters, these machines offer impressive performance with minimal noise and vibration. Mounted on casters for easy mobility, they can also be installed in a truck for mobile on-site destruction.
Allegheny offers three separate horsepower models: 3 Hp, 7½ Hp, and 20 Hp. With the addition of an optional in-feed conveyor and output conveyor, the 20 Hp model can become a complete system, the Allegheny Hard Drive Shredding System, with full 'dump & run' hard drive shredding capability.
Allegheny has recently introduced their new SelecShred™ Hard Drive Shredder. This powerful shredder gives customers the ability to securely destroy both solid state drives (SSD's) and hard drives on the same machine, as well as most e-scrap products, including cell phones, circuit boards, tapes, and CD's.
The SelecShred™ Hard Drive Shredder comes in a 7½ Hp. model, which destroys SSD's to 3/8″ and hard drives to 1½", and a 20 Hp. model, which shreds SSD's to 3/4″ and hard drives to 3/8".
Benefits
Achieves complete destruction of hard drives with no possibility of reconstruction or retrieval.
Model 5HD3 (3 Hp) is available in 208 or 230 Volt AC single phase.
Larger models 12HD7.5 (7½ Hp ) and 12HD20 (20 Hp) can destroy most laptop computers (without batteries).
Combine optional equipment with the 12HD20 model to make a complete "dump & run" system.
Angled 5", 8" or 12" wide in-feed chutes provide ease in feeding.
CAD/CAM design for precision and maximum shredding power.
Creates a reliable income stream for your business.
Download the pdf catalog: SelecShred Hard Drive Shredder , Hard Drive Shredder
Specifications
Optional Equipment
An optional in-feed conveyor (variable speed) added to the Model 12HD20 allows the operator to dump boxfuls of hard drives and e-scrap into the hopper. By adjusting the speed of the in-feed conveyor, the operator can regulate the amount of product entering the cutting assembly and thereby minimize jams. An optional output conveyor is available for transporting the shredded materials into a Gaylord box, roll-away container, etc. This configuration, the Allegheny Hard Drive Shredding System, offers a complete "dump & run" system saving valuable time and labor costs.
For more information on our Hard Drive Shredders, please call your Allegheny sales representative at 800-245-2497 or complete our Information Request Form.
Specifications
*Standard drives up to 1″ (25 mm) thick and most server drives. Actual capacity depends on available power supply.
Model
5HD3
12HD7.5
12HD20
Motor
3 HP
7.5 HP
20 HP
Capacity Per Minute*
12-15
30-35
40-45
Input Speed
(feet/meters
per min.)
23/7
42/12.8
65/19.8
Feed
Opening
(width x
height)
5″ x 1 3/4″ / 127 mm x 44.5 mm
12″ x 2″ / 305 mm x 51 mm
12″ x 2″ / 305 mm x 51 mm
Cutting
Assembly
(width)
5″ / 127 mm
12″ / 305 mm
12″ / 305 mm
Cutters
6 1/2″ / 165 mm – hooked
9″ / 229 mm – hooked
10 1/2″ / 267 mm – skiptooth
Shred
Width**

1 1/2″ / 38 mm

Decibel Rating
(diameter)
68 dBA
70 dBA
75 dBA
Voltage**

208 / 230 / 460 Volt AC, 3-phase, 60 cycle (Other voltages are available.)

Dimensions
(width x
lenght x
height)

33″ x 33″ x 55″ / 84 cm x 84 cm x 140 cm
42″ x 45″ x 56″ / 107 cm x 114 cm x 142 cm
48″ x 55″ x 68″ / 122 cm x 140 cm x 173 cm
Shredder
Weight
1,000 lbs / 454 kg
1,100 lbs / 499 kg
1,135 lbs / 515 kg
Request a Quote
Contact Us
"*" indicates required fields
We Sell at Factory Prices
All Allegheny equipment is American-made, manufactured at our factory in Delmont, Pennsylvania. This allows us to sell our products without import or export charges. We sell at factory prices, ensuring that you receive maximum value on your investment.Your biggest savings, however, derives from the quality of our equipment. Ask any of our customers: Allegheny equipment is built to perform, year in and year out, without troublesome breakdowns and costly repairs.
We pride ourselves on providing cost-effective solutions to our customers' shredding needs – from collecting to processing to recycling shredded materials for a profit.