Security Grinders & Single-Shaft Shredders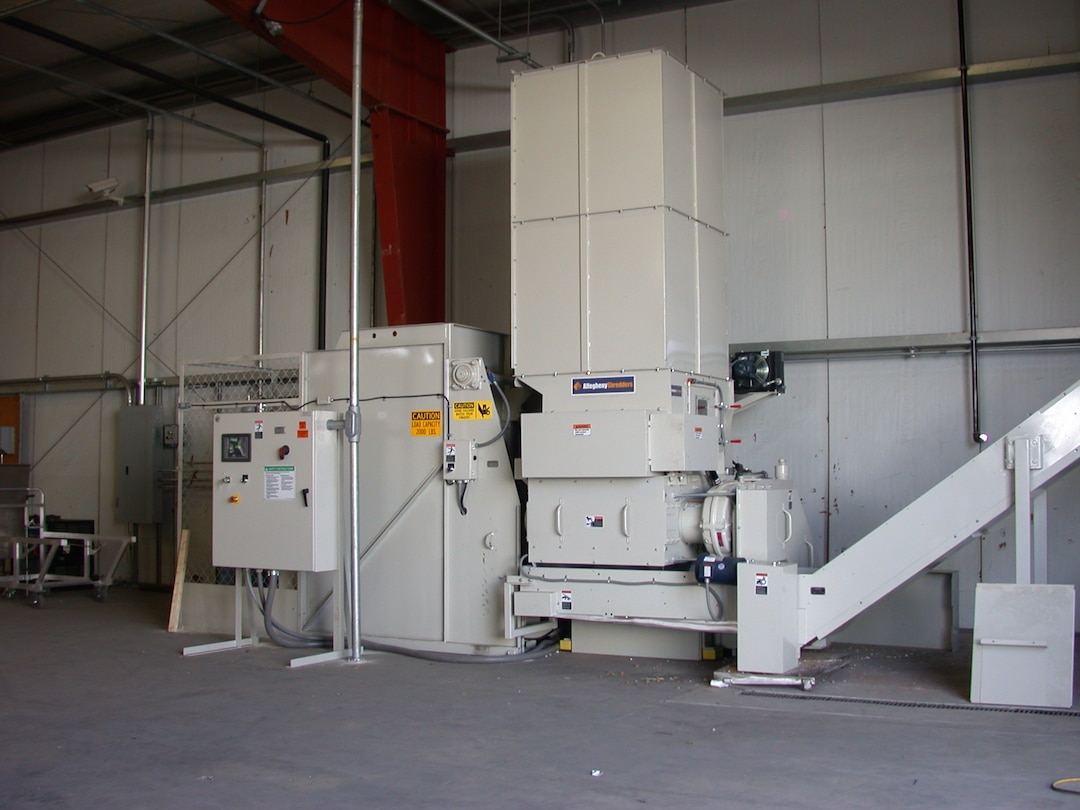 More Photos »
When the highest level of destruction is required for a wide range of materials.
Powerful solution for total destruction of a wide range of materials, including paper, plastics, wood, medical waste, and e-scrap products.
Available with Allegheny's patent-pending SelecShred™, allowing operators to switch the screen size with a simple push of a button.
Concept
If you need to destroy a variety of materials at a high level of destruction, the Allegheny Security Grinder & Single-Shaft Shredder is a powerful, flexible solution. Utilizing our proprietary single-shaft rotary design with adjustable screen sizes, the Security Grinder is designed for single-stage 'dump and run' destruction of paper documents, plastics, wood, medical waste, e-scrap products, and printer's waste.
In 2005, Allegheny introduced the industry's first single-shaft industrial shredder with an adjustable screen. The patent-pending SelecShred™ gives operators the ability to change the screen size of their grinder with the simple push of a button, instead of manually replacing one screen with another to accommodate different shred size requirements for different shredding jobs or clients ­– a time-consuming and costly process.
This added flexibility, along with the versatility of materials (paper, plastic, wood, medical waste, e-scrap) that can be destroyed, makes the Allegheny Security Grinder the ultimate industrial shredder for ultra-high level, secure destruction.
The Security Grinder & Single Shaft Shredder is available in two models: 1436GX and 1452GX. The SelecShred™ screen is optional on all models.
Benefits
Powerful, single-stage "dump and run" destruction.
Flexibility provided by the Selec-Shred™ adjustable screen size technology; screen sizes range from 3/8" to 4".
Versatile industrial shredder that can handle many different materials (paper, cardboard, plastic, e-scrap, etc.).
Ideal for paper shredding services, recycling centers, printing companies, medical waste facilities, or government agencies requiring complete secure destruction.
Download the pdf catalog: Security Grinder & Single Shaft Shredder
Specifications
Optional Equipment
Allegheny offers optional equipment to enhance the productivity of your Allegheny Security Grinder, including Tippers, Conveyors and Horizontal Balers.
Tippers
Used with a loading cart, security container, or a Gaylord box, the Allegheny 880 or HLS Tipper offers an efficient way to load materials onto your industrial shredder input conveyor. This increases the volume of throughput to be shredded and minimizes operator fatigue and strain.
Conveyors
Sorting conveyors allow the operators to separate materials by grade and type prior to shredding for maximum recycling profits. Primary Conveyors, Metering Conveyors, and Output Conveyors allow easy transport of shredded materials into a baler, compactor, dumpster, or other receptacles.
Horizontal Balers
Allegheny offers a complete line of horizontal closed-end balers and auto-tie open-end balers to increase the efficiency of your shredding operations.
Consoles & Security Containers
Allegheny provides a full selection of security containers and executive consoles to provide secure storage of documents prior to shredding.
For more information on our Security Grinders and Single-Shaft Shredders, please call your Allegheny sales representative at 800-245-2497 or complete our Information Request Form.
What Our Customers Say
"Allegheny overbuilds their equipment. It's solidly built and extremely durable. Manufacturers typically overestimate what their equipment can do – but Allegheny's equipment does exactly what it promises, and often over-performs."
– PAUL SWENSON, Citadel Information Management
Request a Quote
Contact Us
"*" indicates required fields
We Sell at Factory Prices
All Allegheny equipment is American-made, manufactured at our factory in Delmont, Pennsylvania. This allows us to sell our products without import or export charges. We sell at factory prices, ensuring that you receive maximum value on your investment.Your biggest savings, however, derives from the quality of our equipment. Ask any of our customers: Allegheny equipment is built to perform, year in and year out, without troublesome breakdowns and costly repairs.
We pride ourselves on providing cost-effective solutions to our customers' shredding needs – from collecting to processing to recycling shredded materials for a profit.