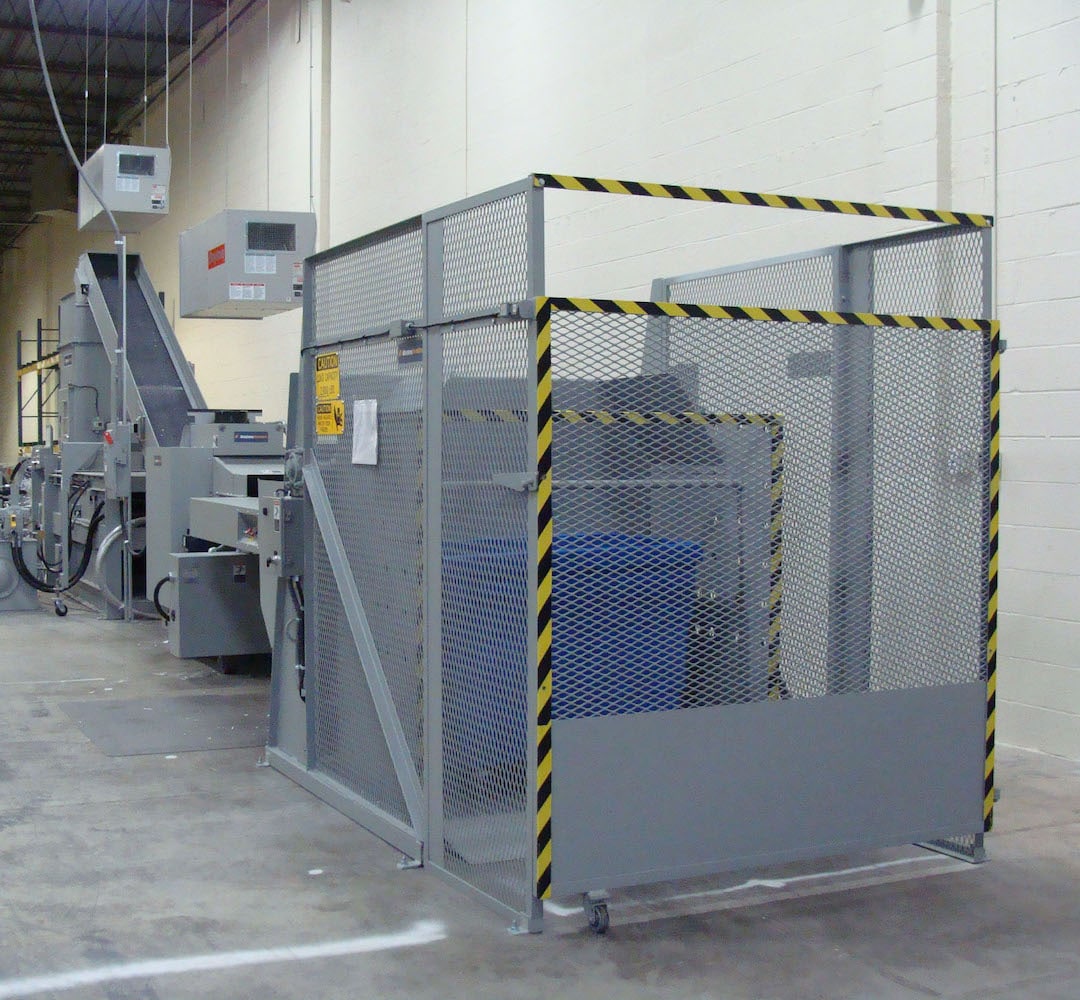 For high-volume loading onto an input/sorting conveyor or an Allegheny Auto-Feed™ System.
Maximize your throughput volume by providing a consistent, even flow of materials into your industrial shredder
Eliminate back strain and fatigue from repetitive lifting of tons of paper per hour
Optional packages designed by Allegheny for HLS Tippers improve operating capacity and efficiency
Concept
Now you can maximize your throughput capacity by regulating a steady flow of paper into your industrial shredder, using an Allegheny HLS Tipper. Our tippers are designed to accompany Allegheny 100-Series and 1000-Series Industrial Shredder or the Allegheny Auto-Feed™ System.
The HLS Tipper is operator-controlled and utilizes Power-up/Gravity-down operation; controls can be mounted remotely. Protective cages use an interlock-hinged door to ensure safe operation.
Several optional packages improve the productivity of the HLS Tipper, including: Auto-Tip, for automatic full up/down emptying of containers; Fast-Tip, for high-speed 'dump and run' destruction; Laser Safety Scanner, for added safety and efficiency (see full descriptions under "Options" tab). Customers may add one, two, or all three optional packages.
Benefits
HLS Tippers load high volumes of paper efficiently, effectively, and safely – directly maximizing your industrial shredder productivity.
Allegheny tippers help eliminate operator strain and fatigue (and possible injury) from heavy, repetitive lifting.
HLS Tippers accept a range of containers: Up to two 64- through 96-gallon security containers, up to two 55-gallon drums, loading carts and a Gaylord box weighing up to 2,000 lbs.
Tippers are operator-controlled for fast processing and maximum throughput. Remote mounting of controls is available with optional packages.
Safety cage or laser scanner ensures the safety of your operators.
All HLS Tippers come standard with a feed table, allowing space for sorting material as it is fed into your industrial shredder.
Optional packages greatly increase speed and efficiency of your tipper, bumping up your bottom line.
Download the pdf catalog: HLS Tipper
Specifications
Options
Allegheny Auto-Tip
This feature makes shredding jobs easier with an automatic full up/down cycling of the tipper. Remote mounting of controls provides easy access for the forklift operator, streamlining your operation.
Allegheny Fast-Tip
Dramatically increase your productivity by using this high-speed 'dump and run' fast-tip package. Its large hydraulic power unit and dual cushioned cylinders provide smooth operation that's three times faster than our standard HLS Tipper.
Laser Safety Scanner
This work-saving feature replaces the standard interlock-hinged door with a laser safety curtain, allowing the operator to remain on the forklift and operate the tipper remotely. This scanner ensures the safety of the operator.
For more information on our HLS Tipper, please call your Allegheny sales representative at 800-245-2497 or complete our Information Request Form.
"The Allegheny Fast-Tip is three times faster than our standard model, and offers a convenient, reliable way to empty your materials while saving valuable work time."
– JOHN WAGNER, Founder, Allegheny Shredders
Request a Quote
Contact Us
"*" indicates required fields
We Sell at Factory Prices
All Allegheny equipment is American-made, manufactured at our factory in Delmont, Pennsylvania. This allows us to sell our products without import or export charges. We sell at factory prices, ensuring that you receive maximum value on your investment.Your biggest savings, however, derives from the quality of our equipment. Ask any of our customers: Allegheny equipment is built to perform, year in and year out, without troublesome breakdowns and costly repairs.
We pride ourselves on providing cost-effective solutions to our customers' shredding needs – from collecting to processing to recycling shredded materials for a profit.