Complete Shredding Systems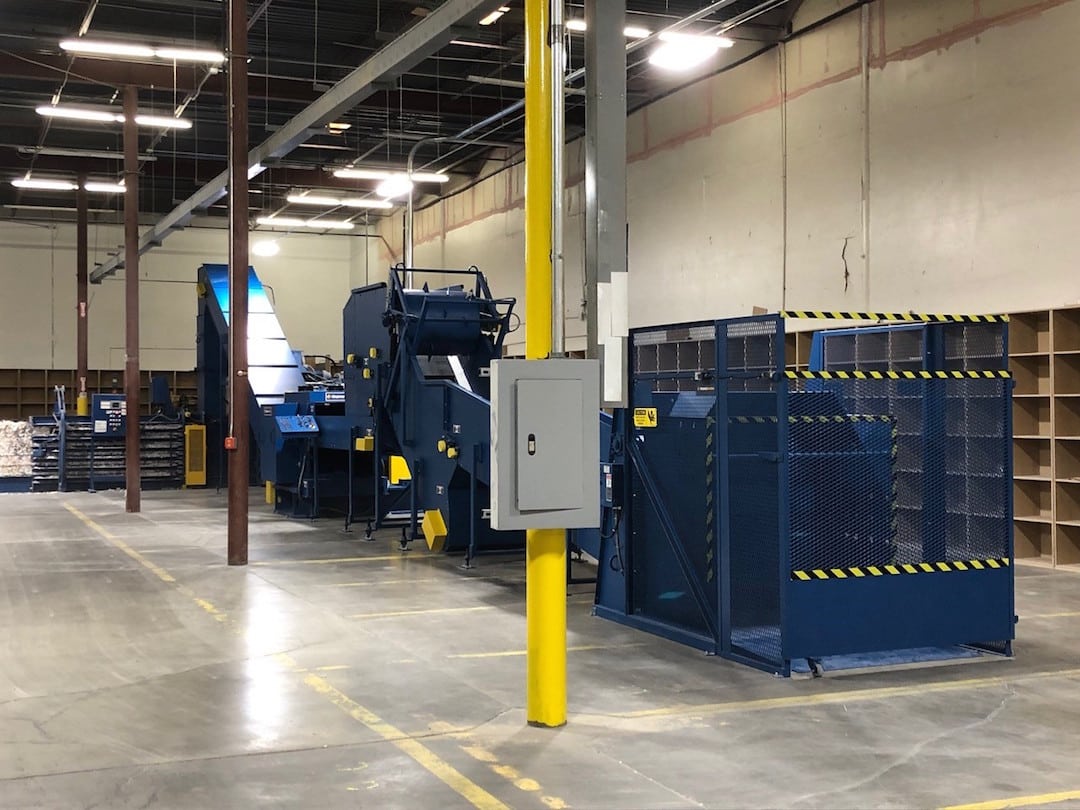 Maximize your productivity, reduce labor costs, and capture recycling dollars!
Innovative, custom solutions to increase your bottom line from three different angles.
Dramatically increase your industrial shredder productivity, turn your paper into recycling profits, and minimize labor costs.
Concept
Allegheny offers optional equipment to provide easier disposal of your shredded materials and enable you to turn your waste paper into recycling dollars. We can even custom design a complete shredding system to maximize your industrial shredder productivity and reduce your labor costs.
We'll help you determine the most efficient way to collect materials for shredding, process materials through the industrial shredder, and recycle shredded paper for a profit.
Allegheny will also help you design the physical layout of your system to make the most efficient use of available space and personnel. Using computer-aided design technology we can provide you with a detailed diagram showing the optimal layout of your shredding system within your facility.
Our technicians are available to install your complete shredding system and train your personnel to ensure safe, efficient operation and proper maintenance of your industrial shredder.
Benefits
Integrate optional equipment into a profitable, complete system.
Expand your shredding system in accordance with your budget – you can add one or two pieces of equipment at a time, growing your system step by step.
At every step of the way, Allegheny experts will ensure the efficiency and productivity of your shredding operation.
Streamline your entire operation with a "total solution" and watch the profits rise!
Optional equipment.
The following optional equipment may be used to create a complete shredding system:
Tippers
Used with a loading cart, security container, or a Gaylord box, the Allegheny 880 or HLS Tipper offers an efficient way to load materials onto your shredder's input conveyor or into an Auto-Feed™ System. This increases the volume of throughput to be shredded and minimizes operator fatigue and strain.
Conveyors
Sorting conveyors allow the operators to separate materials by grade and type prior to shredding for maximum recycling profits. Primary Conveyors (in-floor or above-ground), Metering Conveyors (see Auto-Feed™ Systems below), and Output Conveyors allow easy transport of shredded materials into a baler, compactor, dumpster, or other receptacles.
Horizontal Balers
Allegheny manufactures a complete line of horizontal closed-end balers and auto-tie open-end balers to increase the efficiency of your shredding operations. Allegheny balers produce dense, superior quality bales that increase your recycling profits. Bale weights range from 800 lbs. up to 2000 lbs.
Security Containers & Consoles
Allegheny provides a full selection of security containers and executive consoles to provide secure storage of documents prior to shredding.
For more information on our Complete Shredding Systems, please call your Allegheny sales representative at 800-245-2497 or complete our Information Request Form.
Request a Quote
Contact Us
"*" indicates required fields
We Sell at Factory Prices
All Allegheny equipment is American-made, manufactured at our factory in Delmont, Pennsylvania. This allows us to sell our products without import or export charges. We sell at factory prices, ensuring that you receive maximum value on your investment.Your biggest savings, however, derives from the quality of our equipment. Ask any of our customers: Allegheny equipment is built to perform, year in and year out, without troublesome breakdowns and costly repairs.
We pride ourselves on providing cost-effective solutions to our customers' shredding needs – from collecting to processing to recycling shredded materials for a profit.