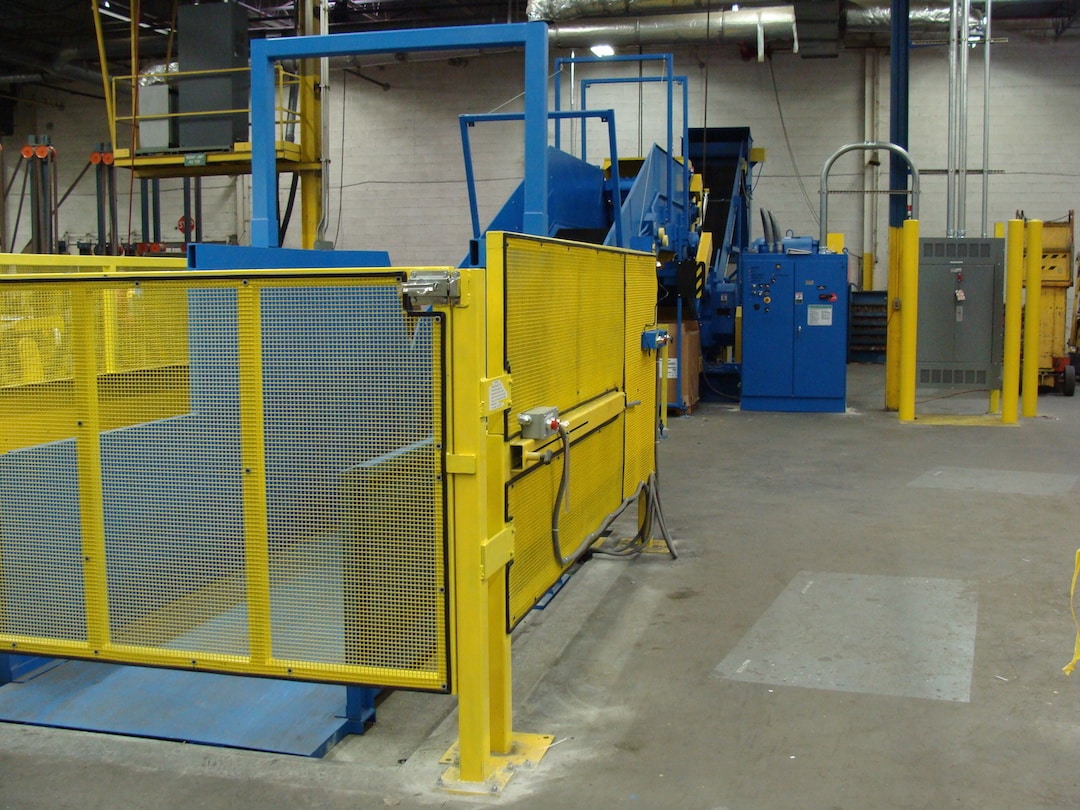 Shred your cores and tubes for easy baling and recycling profits!
Accepts cores and tubes of any size, up to 24″ in diameter with 1″ thick walls, along with scrap rings and cardboard boxes.
Minimizes your solid waste disposal costs by shredding and recycling these materials.
Concept
Allegheny's Core Shredders are designed to crush and shred bulky cores and tubes into strips that are ideal for baling. During the process, cores and tubes are easily fed into the industrial shredder cutting assembly by an input conveyor and a unique series of heavy-duty crusher paddles. The shredded material, which has a 2″ shred width, is then conveyed into your baler with an optional Allegheny output conveyor. Scrap rings and cardboard boxes can also be fed through the shredder with ease. This industrial shredder is the perfect solution for cores that take up a large footprint within your facility.
Each Allegheny Core Shredder comes complete with an input conveyor, base-mount gear reducer, and central control panel. All industrial shredder systems are shipped complete with wiring to each motor and component. Optional custom tippers are available for easy delivery of the cores and scrap onto the input conveyor belt. As with any Allegheny industrial shredder, the system comes with a 1 year warranty!
Benefits
Reap profits from recycling cores and tubes.
Save space in your facility by reducing the amount of waste.
Specifications
Model
30″ Core Shredder
36″ Core Shredder
40″ Core Shredder
Motor / Drive Train
100 Hp., 460v, 3 phase, 60 cycle
125 Hp., 460v, 3 phase, 60 cycle
150 Hp., 460v, 3 phase, 60 cycle
Max Core Diameter
18-1/2″ ID
22-1/2″ ID
24″ ID
Max Core Wall
3/4″
3/4″
1″
Cutting Assembly
(width)
30″
36″
40″
Cutting Assembly Clearance
1-7/8″
2-1/8″
2-3/4″
Crusher
5 powered crusher
paddles
6 powered crusher
paddles
6 powered crusher
paddles
Shred Width
2″
2″
2″
Feeder Amps required
200
275
375
As we constantly improve our products, specifications are subject to change without notice.
Our Core Shredder (Tube Shredder) Destroys Cardboard
Would you love to work with the best manufacturers of core shredder and tube shredder technology? Allegheny Shredders has been a hallmark company in the shredding industry for over 50 years now. With our core capabilities in paper shredding equipment, hard drive shredding equipment, and material handling equipment, we continue to bring excellence with each and every relationship. Our clientele will often include customers who've been with us for multiple decades!
It's time for you to find out why our core shredding equipment is some of the best in the industry. If you'd like to save some time though, you can simply call us at (800) 245-2497 or complete the form on this page today!
Why Our Core Shredder Is The Best
Why should you utilize a tube shredder from Allegheny Shredders? Our core shredders are included with one-year parts and labor warranty. Many times, our equipment will have extended warranties for up to 10 years! You'll find plenty of clients who have used the daylights out of our core shredders for a decade without any major problems.
More than these reasons, you end up making quite a bit of profit by recycling cardboard cores and tubes. It's an essential part of the shredding process in order to minimize the footprint these large cores and tubes create. They take up large, unnecessary space in facilities while that space could be used more economically. That's why utilizing our tube shredder technology is the only way to go when recycling cores and tubes! Read more about our Core Shredder here.
Mass Destroy Cardboard Quickly
By utilizing these machines, you have the ability to destroy massive amounts of cardboard quickly. The equipment can handle shredding cardboard cores and tubes up to 24 inches in diameter. That's a similar size to a large circle mirror in your bathroom. Our equipment also handles cardboard tubes with 1 inch thick walls. It'll destroy whole cardboard boxes without needing to flatten them. Due to the fact that our shredders have been around for over 50 years, they are trusted as some of the best shredders in the world. See how we built up our company here.
Create Big Profits from Recycling Cardboard
Baling is such an important facet of the shredding world. It provides tremendous flexibility for paper, cardboard, and plastic materials to be easily transported and recycled. The process of baling is to compress shredded material into bales (balled-up cubes)bound together by wires. This is similar to how hay bales are created on farms.
With a tube shredder from Allegheny Shredders, you utilize this equipment to bale cardboard cores and tubes for maximum value and efficiency. You end up eliminating the vertical baler and shredding boxes, saving you money! That helps you increase your profitability!
Save Space in Your Facility with Our Core Shredder
You have a lot of tools and pieces of equipment already in your warehouse. Could you possibly afford to take up more space in your facility for a giant piece of equipment? You may want to purchase a new core shredder, but you're looking around and you can't fathom making more space for this large piece of equipment.
Thankfully with Allegheny Shredders, you won't have to worry about our core shredder or tube shredder hogging up the warehouse floor. Eliminate the manual labor of moving cores and tubes from location to location by shredding them down to manageable strips! So all those chores you've been piling around and lugging around to trash dumps, you can now shred and transport much more easily. All it takes is using one baler for all recycling of all cardboard and paper products. For more details about how our core shredding equipment works for your needs, you can simply hop on the phone at 724-468-4300.
Shreds Scrap Rings and Boxes
You may have many stations of multiple gaylords being filled and hogging up precious floor space. They are giant pieces for other projects and it's getting troublesome to deal with these materials. This is especially true for scrap ring gaylords and boxes gathering around your shop! Well, do not feel stressed anymore about where you should store these in your warehouse.
There is no need to fill up gaylords of scrap rings without making recycling profits. You can shred these boxes and scrap ring up with Allegheny Shredders' time-tested products. We've got over 50 years of engineering and customer satisfaction to back up the quality of our products.
Feeds Multiple Tubes at a Time
Does the idea of recycling and shredding your tubes sound good, but you're wondering whether it's more hassle than not? Do not fret because our core shredder pieces will cut up multiple tubes at a time! This will allow you to cut down on your labor costs and provide quick, easy shredding of your cores and tubes.
The Company to Trust for Core Shredder Technology
We have genuinely recognized the world's best shredding company. We're the manufacturer that's been in business thriving for over 50 years. No matter what economic downturn we could face, we've persevered through it because people will always need to shred things. Whether it's confidential papers, hard drives, or any other things you'd want to cut up, our company definitely has you covered!
The tube shredder we provide is backed by one-year parts and labor warranty that's sure to give you some confidence. We're also the only manufacturer who has the capabilities to produce all five shredding technologies in our place. This gives us plenty of flexibility to satisfy whatever needs you to have, beyond a new core shredder for your facility. We also provide awesome customer service by repairing and servicing any current model we have out there. That's right if you purchased a tube shredder from us five years ago and something has finally gone wrong with it, we'll happily come out to your facility and make it good as new again. It just comes to show that the best, most respected companies are often the most generous with their customers. That's why you'll also find that Allegheny provides extended warranties for up to 10 years.
For more information on our Core Shredders, please call your Allegheny sales representative at 800-245-2497 or complete our Information Request Form.
Request a Quote
Contact Us
"*" indicates required fields
We Sell at Factory Prices
All Allegheny equipment is American-made, manufactured at our factory in Delmont, Pennsylvania. This allows us to sell our products without import or export charges. We sell at factory prices, ensuring that you receive maximum value on your investment.Your biggest savings, however, derives from the quality of our equipment. Ask any of our customers: Allegheny equipment is built to perform, year in and year out, without troublesome breakdowns and costly repairs.
We pride ourselves on providing cost-effective solutions to our customers' shredding needs – from collecting to processing to recycling shredded materials for a profit.