Off-Loading System for Trucks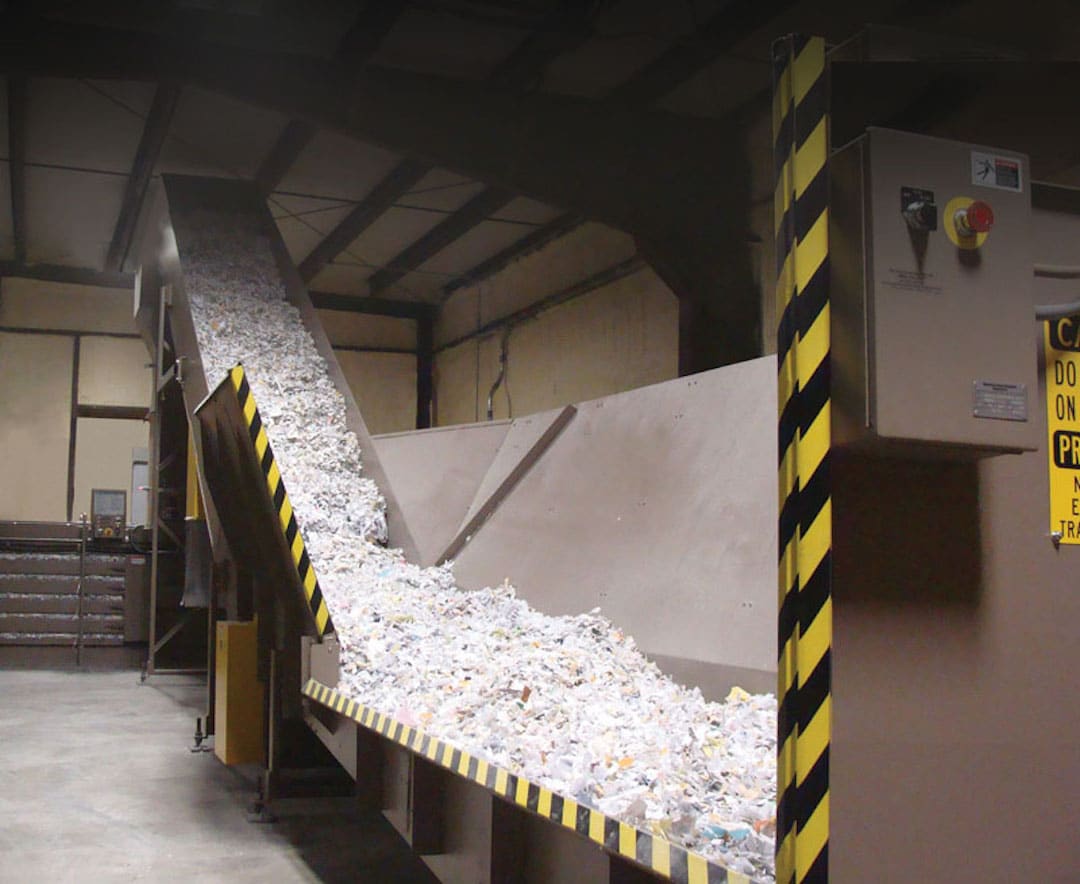 Reclaim recycling profits with Allegheny's integrated two-conveyor system.
An innovative Allegheny solution allowing you to capture recycling dollars from mobile truck operations.
Integrated two-conveyor system feeds shredded paper directly into the baler.
Avoid the obstacles in installing an in-floor pit.
Concept
If your industrial shredder service uses mobile shred trucks, or if you're starting up a mobile shredding service, you can now easily reclaim valuable recycling dollars in a cost-effective way. With Allegheny's newest technology, the Off-Loading System for Mobile Trucks, shredded paper is discharged directly from the truck onto a primary conveyor. This connects to a second, inclined metering conveyor that feeds the shredded paper directly into a baler. You can incorporate your Off-Loading System with your Allegheny industrial shredder to dump your truck and shredder directly onto the same baler!
This efficient system delivers your profitable end product—tight, clean bales of recycled paper. Allegheny's Off-Loading System also eliminates the hassles and cost involved in creating an in-floor pit.
Benefits
The Off-Loading System makes it easy to add mobile shredding to your operation.
Flexible design fits either an in-line or T-configuration in your facility and can be incorporated with your industrial shredder.
Increases your profits by producing a saleable product.
Sensor on in-feed conveyor allows baler time to cycle.
Another cost-effective solution to put your business ahead of your competition!
Download the pdf catalog: Off-Loading System
Specifications
Model
Off-Loading System
Motor
5 Hp. TEFC
Input Speed (feet/meters per minute)
– Hopper Conveyor
45 / 14
– In-Feed Conveyor
90 / 28
Hopper
Custom-designed with a 10′ wide opening for off-loading. Optional low to ground opening for low-discharge mobile trucks
In-Feed Conveyor
Custom-designed to baler
Voltage*
208/230/406 Volt AC, 3-phase, 60 cycle
Overall System Dimensions
Custom-designed to facility and baler
Weight
(approx.)
5000 lbs / 2273 kg
*Additional voltages are available.

As we constantly improve our products, specifications are subject to change without notice.
For more information on our Off-Loading System for Trucks, please call your Allegheny sales representative at 800-245-2497 or complete our Information Request Form.
"Our Off-Loading System makes paper recycling easy for mobile trucks. This two-conveyor, integrated system feeds the shredded paper right into the baler, allowing you to capture valuable profits from recycling. Another Allegheny solution for your success!"
– JOHN WAGNER, Founder, Allegheny Shredders
Request a Quote
Contact Us
"*" indicates required fields
We Sell at Factory Prices
All Allegheny equipment is American-made, manufactured at our factory in Delmont, Pennsylvania. This allows us to sell our products without import or export charges. We sell at factory prices, ensuring that you receive maximum value on your investment.Your biggest savings, however, derives from the quality of our equipment. Ask any of our customers: Allegheny equipment is built to perform, year in and year out, without troublesome breakdowns and costly repairs.
We pride ourselves on providing cost-effective solutions to our customers' shredding needs – from collecting to processing to recycling shredded materials for a profit.