Buying an Industrial Shredding Machine? Consider These Factors.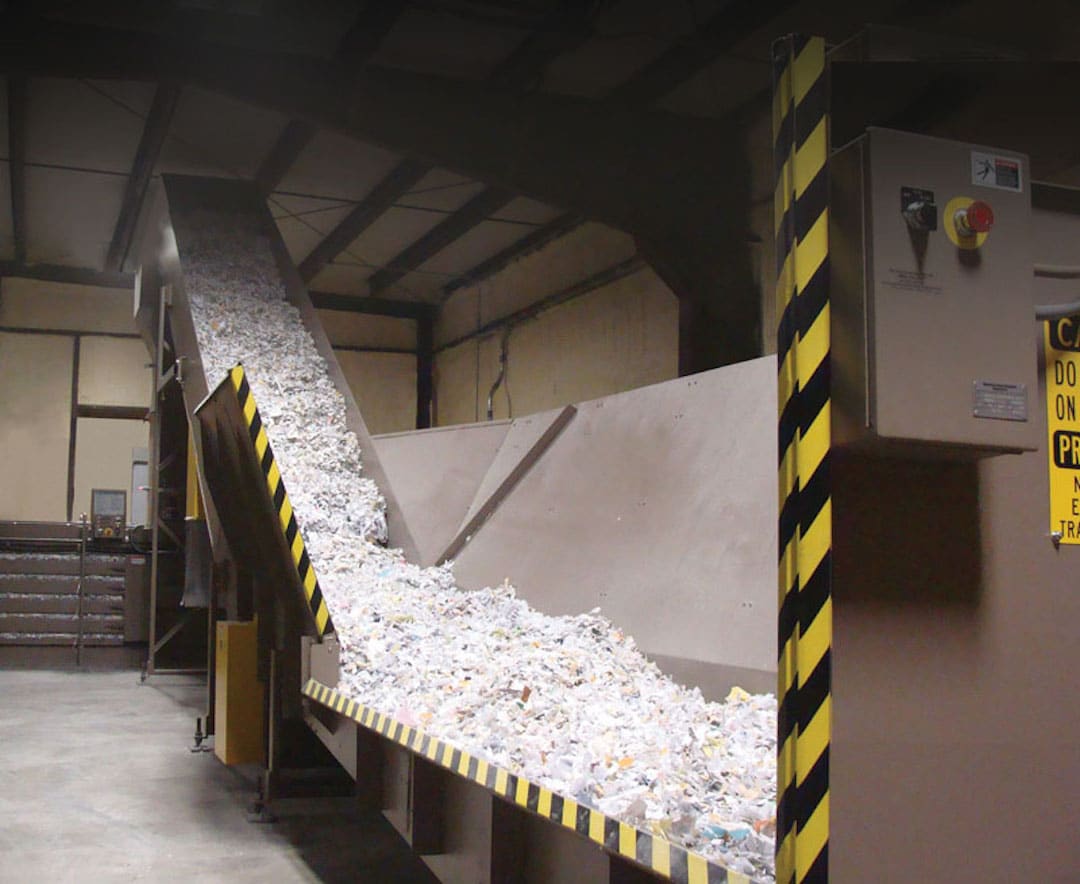 The acquisition of major equipment like an industrial shredding machine requires advanced research and some sound advice. If you are in the market for making such an important purchase, consider the following factors that will help you make informed choices that results in the right equipment for your business.
Capacity
The volume of paper that regularly needs shredding will determine the size of machine you will need. Industrial shredding machines come in different size, horsepower, and capacity options. Capacity is typically measured in pounds per hour and is determined by the physical size, weight, and amount of material being shredded. Take into consideration what amount of shredding you presently require, and add capacity for some future growth.
Feed
Industrial shredders come with either a manual or auto-feed system. Not surprisingly, manual-feed machines require hand-feeding the material, while an automatic feed helps optimize shredder performance by providing a constant supply of paper to the shredder. For larger shredders, an automatic feed also eliminates the need for multiple operators just to feed the shredder. You need to ask yourself: Will investing in an automatic feed provide the best efficiency now and in the future, or will the manual feed be sufficient?
Cutter
What level of paper shredding security does your business require? Industrial shredders come with various options for cutters:
Operation
Consider portability, safety, and noise factors. Where will your shredder be located? Will it have enough room and is isolated so the noise doesn't disturb other operations? Shredding can create dust as well, which may require dust abatement measures. In addition, these machines are heavy and produce vibrations during operation, so it is best to research the best location before purchasing and setting up your industrial shredding machine.
Support Equipment
Other questions to consider include:
Some Final Considerations
Choose a shredder rated to meet your requirements
Find a reputable manufacturer with long-term experience and reputation for great customer service.
Select a shredder that has a large enough chamber size for your materials
Make sure you have sufficient electrical service to your facility and the select location in your building
Does the manufacturer offer any guidance to help in the selection and installation of their equipment, as well as ongoing support and service?
Allegheny Shredders has a long history and great reputation for building industrial shredders. We have the right size shredder for your business, including machines that meet standards like i-SIGMA and comply with HIPAA privacy and security rules. Give us a call at 724-468-4300 if you are considering an industrial shredding machine, and our experts will help guide you to the best solution for your unique requirements.
Request a Quote
Contact Us
"*" indicates required fields
We Sell at Factory Prices
All Allegheny equipment is American-made, manufactured at our factory in Delmont, Pennsylvania. This allows us to sell our products without import or export charges. We sell at factory prices, ensuring that you receive maximum value on your investment.Your biggest savings, however, derives from the quality of our equipment. Ask any of our customers: Allegheny equipment is built to perform, year in and year out, without troublesome breakdowns and costly repairs.
We pride ourselves on providing cost-effective solutions to our customers' shredding needs – from collecting to processing to recycling shredded materials for a profit.